Distance Education
Distance Education is any course in which at least 75% of the course is delivered online. Below are the two types of distance education methods:
INTERNET COURSES
Any course in which 100% of the required content is delivered online. Online classes from Lake Michigan College allow students to attend classes from home, office, or anywhere with access to a computer and high-speed Internet service. In online courses, students submit assignments electronically over the Internet and interact with their instructors and other students via email and online discussions. There are no specific meeting times, however, students must have access to a computer and login regularly. Students may be required to take examinations in an approved environment where appropriate test security and supervision is available. Some courses require online exams to be taken under the supervision of an approved proctor, an educational official who supervises a student during an exam. While most local proctoring services are free, some may charge small fees. Additional details are on the Online Student Services page. There is a reduction in seat time in these types of courses.
HYBRID COURSES
Any course in which 75-99% of the required course content is delivered online. These courses have significantly reduced seat time with some attendance/meeting requirement. Instructors decide on whether the meeting will be online or on-campus. Attendance is specifically stated and explained in the course schedule and in the course syllabus (e.g., the course may meet once a week for fewer contact hours than traditional courses.)
Class Schedule: Choose the schedule for the semester you want. Classes marked "WEB" are available online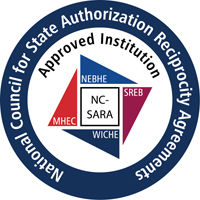 For questions about Distance Education, call the Teaching & Learning Center at (269) 926-4296.
The Higher Education Opportunity Act (HEOA) requires institutions offering distance education courses or programs have processes in place to ensure that the student registering for a course is the same student who participants in the course or receives course credit.