Lake Michigan College presents annual awards to alumni, supporters
April 24, 2019
Lake Michigan College honored three alumni and two long-time community supporters with awards during Honors Convocation held Monday, April 15 at The Mendel Center's Grand Upton Hall on the Benton Harbor campus.
The Clarence Beckwith Distinguished Alumni Award was presented to Wilce L. Cooke of Benton Harbor. Named in honor of the first president of Lake Michigan College, the award is given to alumni who have achieved significant success in their personal and professional endeavors.
The Alumni Service Award was presented to Craig Stilwell of Lansing, Mich. This award is given to alumni who have made important contributions, personally or professionally, to the community or Lake Michigan College.
The Alumni Achievement Award was presented to Lynne Christiano of St. Joseph. This award is given to an alumnus who attended LMC within the past 15 years who has distinguished themselves in their career, education or community to serve as a role model to current LMC students.
The Bernard C. Radde Distinguished Service Award, meanwhile, was presented to both Danny Sledge and Judy Truesdell. Named in honor of the late Dr. Bernard C. Radde, who served as a member of the Lake Michigan College Board of Trustees for 25 years, this award is presented to an individual or individuals who have advanced the cause of Lake Michigan College and higher education. 
***
Wilce L. Cooke has been a nurse for nearly 50 years, most recently in the emergency room of Lakeland Medical Center in St. Joseph. He also has served as mayor of the city of Benton Harbor from 1981-1987 and 2004-2011.
Cooke earned his associate degree in political science and sociology from Lake Michigan College in 1975 while working as a nurse at Mercy Center in Benton Harbor. He transferred to Western Michigan University, completing his bachelor's degree in political science and sociology in 1976 and has since dedicated his life to serving his hometown community.
As mayor, he participated in the implementation of significant developments within the city, including Harbor Shores, the Jack Nicklaus Signature Golf Course, and the Whirlpool Corp. administration building. Cooke also has been a Berrien County Commissioner, a member of the Berrien County Planning Commission, served on numerous committees and advisory boards, and founded The Wilce L. Cooke Foundation in 2013, which helps provide healthcare scholarships and enhance healthcare education and outreach for Benton Harbor area residents. 
He credits his mother for teaching him about the "power of education," and Lake Michigan College, and in particular, political science professor Daniel Roach, for leading him to run for public office, and working in service for the betterment of the community.
***
While studying speech at Lake Michigan College, Craig Stilwell landed his childhood dream job. He wanted to be in radio since the third grade and in high school took a part-time gig at WDOW in his hometown of Dowagiac. Lake Michigan College speech instructor William Devereaux, who worked with Stilwell on the campus closed-circuit radio station, suggested him to WSJM for an on-air position – a position that would lead to a 16-year broadcasting career.
Stilwell earned an associate in arts degree in speech from Lake Michigan College in 1967 and added bachelor's and master's degrees in broadcasting from Western Michigan University in 1969, and Michigan State University in 1970. He worked at stations in Kalamazoo, Battle Creek, Grand Rapids, and Lansing.
As an account executive at WVIC, Stilwell filed lawsuits against non-paying advertisers, becoming "the Perry Mason of small claims court." Deciding to make it official, he earned his law degree at Southwestern University in Los Angeles and set up his law practice in Hollywood in 1983. He returned to Michigan in 1990, opening a law office in East Lansing, before taking a full-time faculty position teaching business law at Michigan State University. At Michigan State, he taught as many as 400 upper-class students each semester for 16 years, wrote a textbook, and received Excellence in Teaching Awards three times before retiring in 2014.
Stilwell credits the public speaking skills learned at Lake Michigan College as the foundation for successful careers in radio, law, and academics, and plans to leave a portion of his estate to the institution.
***
Lynne Christiano said that there is nothing traditional about her, which is why she decided to pursue a college degree even though she was working full-time, her two daughters were still in school, and she was thinking about opening her own business.
Christiano earned her associate of arts degree from Lake Michigan College in 2014, taking classes at the same time she created and opened Purely Michigan, a retail store featuring products from and about Michigan, in downtown St. Joseph. Since successfully selling the business in 2015, she currently serves as office manager for the Berrien County Public Defenders Office.
Originally from Dayton, Ohio, Christiano moved to Southwest Michigan in 1987 and has since worked as assistant studio manager for Johnson Rauhoff Photography, served as development director of the Curious Kids Museum, and was a long-time executive assistant at The Herald-Palladium. 
In 1998, she became a founding member of the nonprofit organization, 100 Women Strong, assisting women in Berrien County with emergency financial needs, and establishing a scholarship at Lake Michigan College to encourage women of any age to obtain new skills and training on their way to self-sufficiency. 
Christiano also is an active member of many other nonprofit organizations, including the Readiness Center, Women's Service League, Krasl Art Center, Southwest Michigan Symphony Orchestra, Berrien Community Foundation and United Way of Southwest Michigan. 
***
Danny Sledge has spent a career helping students strive for success. The Benton Harbor native, who received his bachelor's degree in music education in 1974 and master's in counselor education/counseling psychology in 1977 from Western Michigan University, has worked in higher education administration for more than 35 years.
Sledge was the first director of Lake Michigan College's Upward Bound program, which helps low-income, first-generation college-bound students. He also served as the Dean of Student Development at both Lake Michigan College and Kalamazoo College. Sledge also served as Director of the Division of Minority Affairs and Acting Dean of Students at Western Michigan University, and recently retired as the Diversity and Inclusion Program Manager at Lakeland Health, a position he began May 2015.
In addition to serving as a Lake Michigan College administrator, Sledge has long served as the college's diversity consultant, providing employee and student training. For the past 15 years, he has served as the emcee and a member of the planning committee for LMC's annual Martin Luther King, Jr. Celebration. 
He co-founded LMC's student speaker contest, which provides scholarships to at least two students annually, and has been active on various boards and organizations in his local community, the state, and national level.
***
The first meeting Judy Truesdell attended as a Lake Michigan College Board Trustee was at the groundbreaking of the Niles campus nearly 22 years ago. 
It was the first of many notable milestones during her tenure from 1997-2018. Besides setting policy, Truesdell served as an integral part of the college's expansion in Niles and South Haven and oversaw the addition of the Hanson Technology Center and Beckwith Hall to the Benton Harbor campus.
She assisted with three successful millage renewals, a historic capital millage campaign, and helped usher in LMC's Early College program, which allows students to earn college credits while still in high school.
A native of Pontiac, Mich., and resident of Niles, Truesdell is a graduate of Eastern Michigan University. She co-founded several businesses including, Tree Play, Inc., and Cupcaketree.com, as well as the Niles Education Foundation.
She still serves as a trustee of the Michigan Gateway Community Foundation, where she is chair of the Niles Fund, The Huizenga Foundation, and Lakeland Health Foundation.
***
A photo gallery of Honors Convocation can be found here.
To nominate an individual for future LMC alumni awards, contact Rita Whise, manager, Advancement Programs and Stewardship at (269) 927-6278, or by email at rwhise@lakemichigancollege.edu. 
Nominations can also be made online at www.lakemichigancollege.edu/nomination. Nominees must have earned at least 30 credit hours at LMC or one of its predecessors. Upon nomination, an application will be sent to the candidate.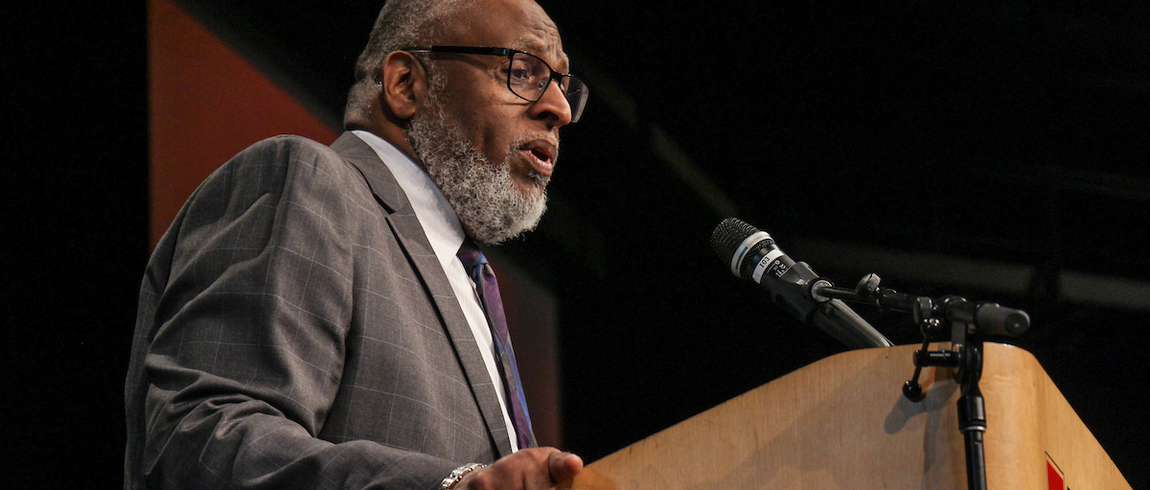 Danny Sledge accepts the Bernard C. Radde Distinguished Service Award.
Media Contact