Use your head and your hands at The Lake
Are you a hands-on problem solver, someone whose creativity shines when you're creating an object? Do you like imagining things and building them using the latest technology? Then you'll love a career in manufacturing and energy. You could program huge machinery to shape steel or mold plastic, create 3D models or design and develop machine parts. Maybe you're already working in the manufacturing industry. In that case, our certificate and apprenticeship programs are a great way to move up. From machining and welding to engineering and energy, you'll find a smart path to a secure future at LMC.
Learn in brand new, high-tech classrooms. You'll have access to the latest technology in our state-of-the-art Hanson Technology Center. Named for one of the area's manufacturing giants, Hanson was built with the needs of local employers in mind. You might have a lecture in the simulation classroom, fabrication labs or on the robotics and welding floors. Classes are offered in CNC, robotics, machine tooling, MIG/TIG welding, 3D printing and more.
Learn with your head – and your hands. At LMC, you'll have hands-on training from day one. And you'll use it from day one on the job, whether it's in manufacturing, welding, machining or energy. Your classes, taught by industry experts, are on the cutting-edge of any manufacturing or energy career.
Learn your way up the ladder. Local companies are always looking for skilled employees, and often send them though LMC's apprenticeship program. You can earn a certificate in drafting and design, energy production or the skilled trades in a year.
Earn while you learn. When you're ready, you can keep working while taking classes for an associate degree. And if you're looking to earn a bachelor's degree, you can transfer to a four-year school with just a few extra classes.
Majors at LMC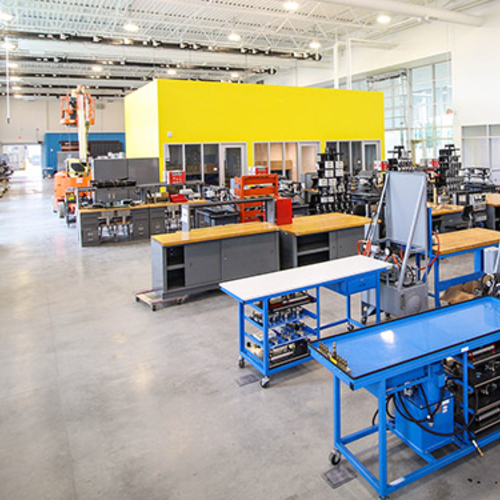 Manufacturing & Industrial Technology News
Ready to get started?
Learn more about the steps to becoming a student, or submit your free application today!
Ready to get started?
Connect with us! Request more information or apply today, and we'll send you everything you need to begin your journey at LMC.