LMC Jazz Band, Pop/Rock Ensemble presents Jazz & Rock Concert
April 24, 2019
Prepare for a little swing and a whole lot of rock as Lake Michigan College's Jazz Band and Pop/Rock Ensemble performs their "Jazz & Rock" Concert at 7 p.m. Thursday, April 25 on The Mendel Center Mainstage on the Benton Harbor campus.
The LMC Jazz Band program includes Chick Corea's "Spain," Earle Hagen's "Harlem Nocturne," Stevie Wonder's "Sir Duke" and Dominic Spera's "One for Woody." 
"We're also going to feature a newly written piece by LMC alumnus Masa Sekioka called 'After Hours Secrets," LMC Jazz Band director Dr. Robert Lunn said. "This piece is funky, and the band has had a lot of fun putting it together. We're also playing 'Fever,' made famous by Peggy Lee's 1959 version, performed by vocalist Amber Case. I gave the group a bare-bones version of the piece, which consisted of the bass line and chords, and as a group, we have made this new arrangement."
In addition to Sekioka on keys and Case on vocals, the LMC Jazz Band includes Eric Lofgren, Kyle Ogata and Aaron Palomo on trumpet; Lauren Cerka, Daniela Garcia and Austin Pisarsky on saxophone; Victoria Rice on flute; Kyla Evans and Zachary Yenchus on trombone; Grant Frabe on bass; Kenneth Jackson and Masa Sekioka on keys; Caleb Kibby, Aidan Raschke and Nicholas White on percussion; and Zach Smith and Jared Willer on guitar.
The Pop/Rock Ensemble, led by LMC instructor Don Savoie, will perform The Black Crowes' "No Speak, No Slave"; Lit's "My Own Worst Enemy"; Dolly Parton's "Jolene"; The Beatles' "We Can Work it Out"; and Red Hot Chili Peppers' "Dani California." 
"It's going to be quite a show," Savoie said. "We go from the blues-based rock of 1990s Black Crowes to the LA funk-rock of the Red Hot Chili Peppers."
The ensemble features vocalists Pandora O'Neill and Allison Gardner; Dillon Lombardo on bass; Matt Lowe on guitar/vocals; and Smith and Willer on guitar.
Admission is free and open to the public. Contact the Lake Michigan College Performing Arts Department at (269) 927-8876 or visit www.lakemichigancollege.edu/arts to learn more about the college's performing and visual arts programs.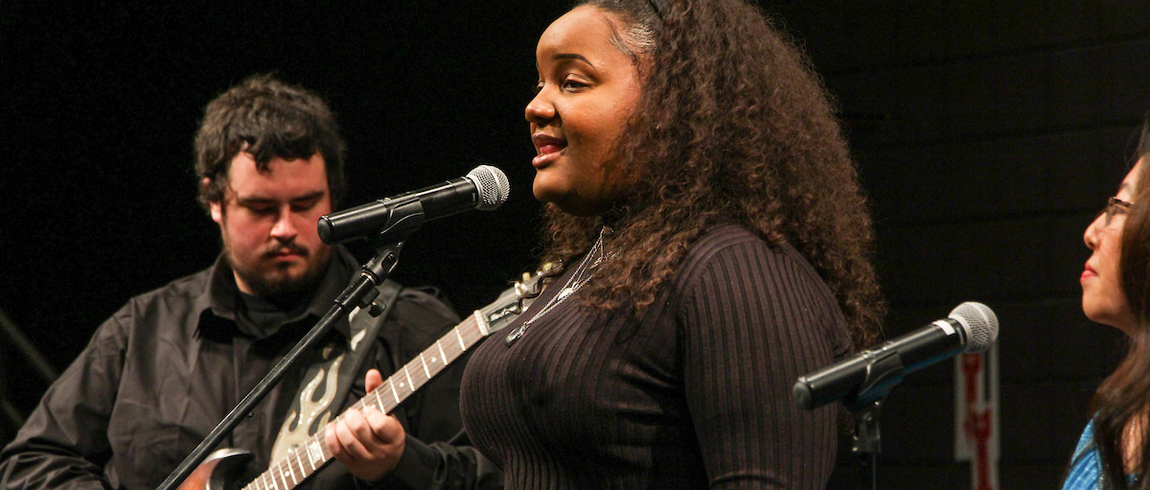 Vocalist De'leshia Hall and guitarist Zach Smith at the 2017 Jazz & Rock Concert.
Media Contact