LMC Concert Choir, Sound Waves present Halloween concert
October 21, 2019
The Lake Michigan College Visual & Performing Arts Department presents "The Deathly Hallows: A Howl-O-Ween Choral Concert & Costume Party" featuring the LMC Concert Choir and its chamber ensemble, Sound Waves, at 4 p.m., Sunday, Oct. 27 in Deckmann Studio (F-117) at The Mendel Center on the Benton Harbor campus.
The choir and ensemble, under the direction of LMC Visual & Performing Arts Chair and Music Director Kristopher Zook, will sing a spooktacular vocal repertoire including "Cauldron Dance," by Giuseppe Verdi from "Macbeth"; "Zombie Jamboree," by Conrad Eugene Mauge, Jr., arranged by Deke Sharon; the Stevie Wonder classic "Superstition"; and "Time Warp," from "Rocky Horror Picture Show."
"The LMC choral groups and soloists have really evolved from last school year," Zook said. "We are doing amazing repertoire at a much higher skill level. We can't wait to entertain our friends, family, and community with the gift of singing."
The program also features works by composers such as Stephen Chatman, Richard Strauss, Gian Carlo Menotti, Danny Elfman, Arthur Sullivan, Steven Sondheim, and Andrew Lloyd Webber. 
Sound Waves features a select group of student vocalists who are admitted by audition and have a passion for high-quality, advanced choral repertoire. Current members are sopranos Riley Cole, Sierra Dooley, and Isabella LeClaire; altos Marteisha Sims, and Karen Smith; tenors Tristin Jeffrey, Tristan Wright and Gabriel Wright; and bass Harold Milliner and Eric Theile.
The Concert Choir is a mixed voice choral ensemble comprised of LMC students and community members from throughout Berrien County and beyond. The group performs regularly on the concert stage, both at The Mendel Center and throughout Southwest Michigan.
In addition to the students in Sound Waves, the Concert Choir includes sopranos Barb Frank; Julie Gaytan; Don-Nee German; Shannon Mitchell; McKenna Munson; Pandora O'Neal; and Corri Wright; altos
Penny Jones Brandt; Dyann Chenault; Kat Evett; Jill Garcia; Marina Peter; Stephanie Pollard; Sue Simmons; Barbara Schofield; and Betsy Trescher; tenors Harvey Johnson, Jr.; Richard Johnson; Carol Orlaske; Lizbeth Preston; and Dennis Wojtczak; and bass Harvey Johnson, Sr.; Armando Linares; David Ott; Aaron Rennhack; Josh Weber; Danny Wright; and Ken Yates.
Following the performance, prizes will be awarded for Best Costume and Best Group Costume. Admission is free and open to the public. A $5 suggested donation, as well as candy and toiletries, will be collected to make goody-bags to send to US military personnel deployed overseas.
"'The Deathly Hallows' will be the Halloween party of the year!" Zook said, "Where else will you get live music, costume fun, prizes, free food, and a service-learning opportunity that gives back to our US military?" 
To learn more about this event and the Lake Michigan College Visual & Performing Arts program, call (269) 927-8876 or visit www.lakemichigancollege.edu/arts.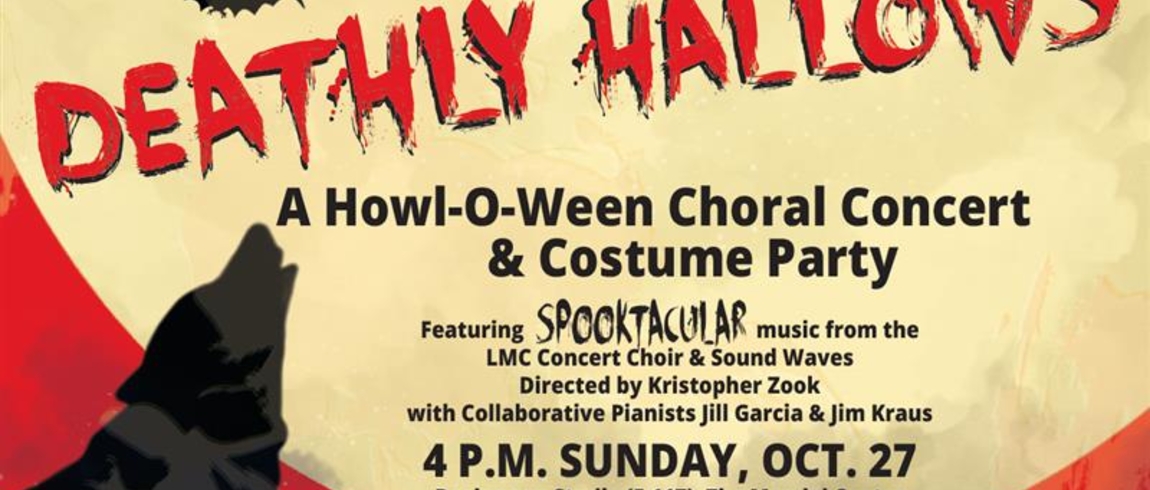 Media Contact