Chocolate, Wine & Jazz returns to LMC's South Haven campus
February 20, 2020
Lake Michigan College has teamed up with the nonprofit community arts organization, Foundry Hall, to present the second year of Chocolate, Wine & Jazz at 7 p.m. Saturday, March 14 on LMC's South Haven Campus. 
The evening will feature jazz performances by Uganda-born jazz musician Ivan Akansiima's trio with special guest Jim Cooper as well as the LMC Jazz Band, led by Dr. Robert Lunn. Guests can enjoy gourmet chocolate delicacies handcrafted by LMC culinary students and wine from Lake Michigan Vintners, LMC's boutique teaching winery.  
"It was such a successful event last year that we couldn't wait to do it again," said Jeremy Burleson, Director of LMC's South Haven Campus. "Chocolate, Wine & Jazz is a great way to showcase the great things we are doing here at LMC, and things we are doing for the community." 
The Jazz Band, which opens and closes the evening event, will perform original music composed by student and band member Jared Willer, several jazz standards, including "Take the 'A' Train" by Billy Strayhorn, and the Latin piece, "Black Orpheus" by Brazilian composer Luiz Bonfá.  
"Last year, I was looking for more opportunities to have the jazz band perform away from the Benton Harbor Campus, which is why this event made so much sense," Lunn said. "It was such a wonderful experience for the students as well as the community that we wanted to do it again." 
In addition to Willer (guitar), the LMC Jazz Band features Tristin Jeffrey (trumpet), Samantha Johnson (tenor saxophone/clarinet), Eric Lofgren (trumpet), Harold Milliner (bari saxophone), Aiden Raschke (drums), Brooke Rodriguez (vocals),  Zach Smith (bass guitar), and Nicholas White (drums). 
Akansiima, an LMC alumnus, headlines the event again this year and is bringing his former piano instructor, Jim Cooper, with him. Cooper, a jazz vibraphonist who started teaching at LMC in 2001, was one of Akansiima's first formal instructors. 
"The first thing I noticed when I heard Ivan was his musicality," Cooper said. "We worked on basic jazz piano technique, voicings, and repertoire, and I watched him grow. It's rewarding as a teacher to have a student that you can hire for gigs." 
Born and raised in the small town of Jinja, Uganda, Akansiima first toured the United States as a guitarist with Kinobe and Soul Beat Africa, playing three memorable shows in South Haven, all presented by Foundry Hall. Not long after those performances, Akansiima decided to stay in Michigan. 
He studied music at LMC and Hope College, earning his associate's and bachelor's degrees. In the fall of 2019, Akansiima completed his master's degree in jazz studies at Western Michigan University. 
The Ivan Akansiima Trio features Akansiima (piano), Ethan Bouwsma (drums), and Jack McDonald (bass) with Cooper (vibraphones) sitting in as a guest artist. The trio will be playing a mix of jazz standards, African music, and original tunes at the event. The setlist includes everything from the Akansiima original "I'll Remember Henry" to "Pata Pata" from "The Lion King" soundtrack to Henry Mancini's "Days of Wine and Roses." 
"It's important to maintain this connection to LMC because a house is only as firm as its roots," Akansiima said. "LMC gave me the root foundation that has helped me accomplish my academic goals and sent me on this musical journey." 
Admission to the event is free. LMC culinary students will provide free samples of gourmet chocolate creations. 
A cash bar will feature wines from Lake Michigan Vintners, LMC's teaching winery, including their 2018 Hard Cider, 2018 Chardonnay, 2018 Wavelength White, an off-dry blend of Riesling and Traminette, and 2018 Waters Edge, a Bordeaux style blend of Merlot, Cabernet Sauvignon and Cabernet Franc. 
For more information on Chocolate, Wine & Jazz, visit foundryhall.org or lakemichigancollege.edu/wineandjazz.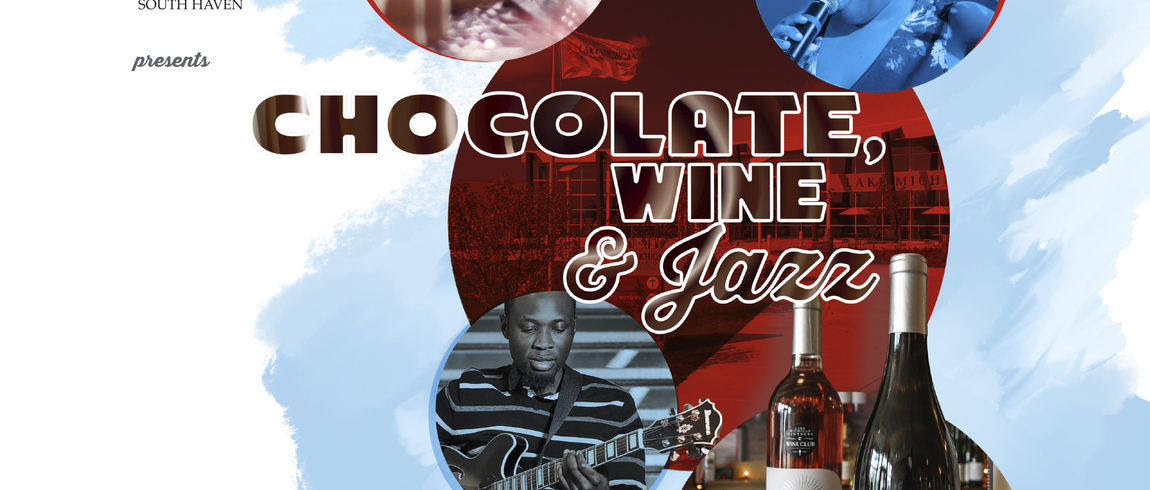 Media Contact