New space offers a world of culinary possibilities at Lake Michigan College
October 4, 2021
Chef Luis Amado has worked in his share of kitchens throughout his career, but nothing can compare to the newly renovated teaching and demonstration kitchens at Lake Michigan College. 
Moving from The Mendel Center to the third floor of the L Wing in the Main Building on the Benton Harbor campus, the new space adds ovens, appliances, and added space for the Culinary Management program to grow. 
The upgrades include a convection oven, smart oven, induction burner stove, a chocolate tempering machine, and a demonstration/ teaching kitchen. 
Chef Amado spoke about what he believes these changes will do for the program, the college, and the community. 
Can you describe some of the critical changes in the new culinary space? 
It is a much more spacious kitchen with new specialized equipment, allowing us to teach more techniques and better prepare future students to meet the industry's unique demands. 
Of all the changes made, what is the one thing you are most excited about? 
It would have to be the addition of a humidity and temperature control room for chocolate and confections. There are very few programs in the nation that specialize or even offer a one-year certificate program in chocolate and confections. We have plans to start offering this program in the Spring. I have had many requests from the community to begin offering this program in addition to our current culinary management program. 
What do you think your students will be most excited about? 
I would say working in small groups and having access to each of our five cooking suites. Each cooking suite is a station with different cooking equipment to learn basic techniques such as grilling, baking, steaming, and sautéing. Each cooking suite has a flat screen attached where students can watch specific videos of every cooking demonstration and follow along as they practice those techniques live during class. 
How will these changes affect your students' experience, and how can it help make the culinary program better overall? 
The space itself is designed to help students learn. The smaller teacher-to-student ratio is a plus. We plan to have a limit of 10 students per lab. The demonstration kitchen also provides a space to bring in multiple guest speakers and international chefs to offer demos and classes to students. Students need to learn not only my approach and methodology but that of other chefs and restaurant people working in the industry. 
The COVID-19 pandemic hurt the restaurant industry. What are you telling students who might be hesitant to go into the field right now? 
This challenging time for the industry is not here to stay. The industry will get back to some normalcy, and the demand for jobs will increase. More opportunities and better pay rates will be available to those who have experience in the field and a college degree or certificate. 
What role do you think LMC's culinary program can play to help the industry rebound? 
We have a vital role that starts with our local community. We want to maintain a local connection to meet employment needs. We want to provide better-prepared students who, from the very beginning, are aware of expectations and all the possible opportunities available to them. 
If you enjoy cooking, working with people, and learning about other cultures, then our program may be right for you. Anyone interested can meet with me, tour the facilities, and talk with our students. They can even put on an apron, spend a day in the kitchen with us and see what it is all about.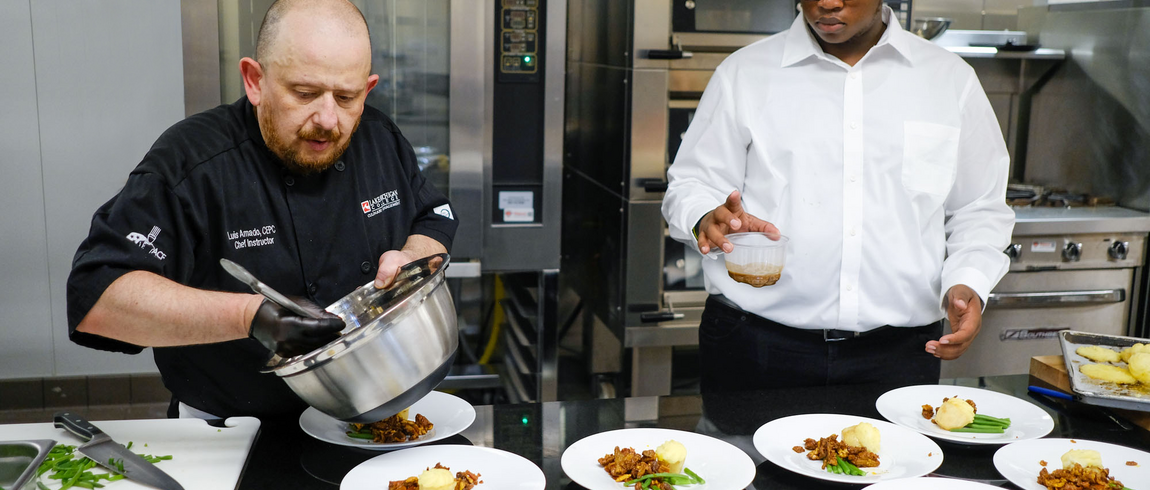 LMC's Chef Luis Amado, left, works with a student in the newly renovated culinary kitchen space on the Benton Harbor campus.
Media Contact