Red Hawks rack up athletic accolades during 2020-2021
October 4, 2021
Student-athletes at Lake Michigan College excelled on the field, court and classroom during the 2020-2021 academic year. 
LMC's Volleyball, Baseball, Softball, and Women's Soccer programs all reached regionals. Baseball standout Roman Kuntz was named Michigan Community College Athletic Association (MCCAA) Western Conference Player of the Year and MCCAA Western Conference Freshman of the Year. He also was named to the National Junior College Athletic Association All-Region XII Team, All-MCCAA Team, MCCAA All-Western Conference First Team, and MCCAA Western Conference All-Freshman Team. In Women's Soccer, Alison Bishop was named to NJCAA All-Region XII First Team, All-MCCAA First Team and MCCAA All-Freshman Team. Maya Ortiz was also named to the NJCAA All-Region XII First Team in Women's Soccer and Madison Vollman was named to the MCCAA All-Western Conference First Team in Softball. 
Red Hawks Volleyball and Baseball programs were named 2020-2021 NJCAA All-Academic Teams and MCCAA All-Academic Teams. Teams must have a 3.0 GPA on a 4.0 scale to receive this distinction. LMC Baseball combined for a 3.21 GPA while Volleyball had a 3.18 GPA. 
Several Red Hawks were named NJCAA Academic All-Americans as well as Academic All-MCCAA. The NJCAA All-Academic First Team (4.00 GPA) includes Megan Anderson (Volleyball), Emily Kotesky (Volleyball), Bishop (Women's Soccer), Sydney Payne (Softball), Lily Timmerman (Softball), Michael Sibbersen (Baseball) and Jacob Mahoney (Baseball). Alexa Kesterke (Volleyball), Kiarra Herson (Softball), Kuntz (Baseball), and Lance MacDonald (Baseball) were named to the NJCAA All-Academic Second Team (3.80-3.99 GPA). Abbie Bever (Volleyball), Maggie Berridge (Women's Soccer), Alyssa Krenek (Women's Soccer), Emma Vandermolen (Women's Soccer), Vollman (Softball), and Jayden Smith (Baseball), were named to the NJCAA All-American Third Team (3.60-3.79 GPA). All received MCCAA All-Academic honors. 
Others named to the MCCAA All-Academic Team were Angela Schmidt (Softball), Ashley Jankowski (Softball), Kyle Ratliff (Baseball), Andy Klavins (Baseball), Cameron Dalrymple (Baseball), Dawson Shearer (Baseball), Matthew Engler (Baseball), Payton Carney (Baseball), Jack Westerhoff (Baseball), Michael Garritano (Baseball), and Hunter Bedell (Baseball). 
For Red Hawks schedules, scores and more visit redhawks.lakemichigancollege.edu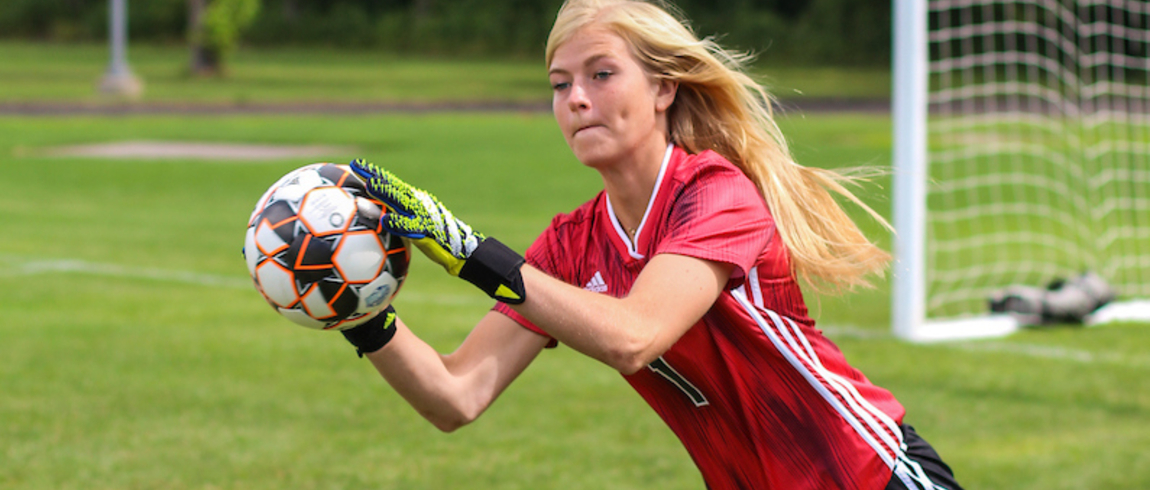 Red Hawks soccer standout Alison Bishop.
Media Contact