LMC's Visual & Performing Arts Department presents holiday concerts
December 1, 2021
The Lake Michigan College Visual & Performing Arts Department celebrates the season with two concerts overflowing with comfort and joy.  
The annual Holiday Collage Concert is 7 p.m. Wednesday, Dec. 8, in The Mendel Center's Grand Upton Hall, featuring LMC Theatre Students, Concert Choir, Jazz Band, Soundwaves, String Chamber Ensemble, and Tailwinds.  The Winter Choir Concert is 7 p.m. Monday, Dec. 13, in the Hanson Theatre, featuring the LMC Concert Choir and Soundwaves.  
"Lake Michigan College's Holiday Collage is becoming the holiday event of the season in our area," LMC Visual & Performing Arts Chair and Music Director Kristopher Zook said. "This show has everything you could want to get into the Christmas spirit, and this year promises to be a very traditional and heart-warming tapestry of performances from some amazing young people."   
The Holiday Collage Concert kicks off with LMC's Jazz Band under the direction of Robert Lunn performing selections such as "Carol of the Bells" and "Jingle Bell Rock." The Chamber String Ensemble, directed by Jason Gresl, will perform the Hugh Martin classic "Have Yourself a Merry Little Christmas." Tailwinds, directed by Danny Lopez, will play Ludwig van Beethoven's Allegro from Trio, Op. 87. The Concert Choir and Soundwaves will sing an eclectic repertoire that includes Moses Hogan's "Glory, Glory, Glory to the Newborn King," Craig Courtney's arrangement of the French tune "Il Est Né," and Seth Houston's "Snowflakes." Meanwhile, LMC Theatre students Samuel Garrison, Tristin Jeffrey, and Shannon Mitchell, directed by Patrick King, will perform scenes from "Almost, Maine."  
LMC's Jazz Band features Brady Bushong (percussion & guitar), Jason Dubs (piano), Matthew Grimm (guitar), Jeremy Lane (percussion & vocals), and Andrew Lunn (bass & guitar). The Chamber String Ensemble is Peg Pinkowski (violin), Dezmin Marshall (violin), and Eric Keeler (cello). Tailwinds include Kalysta Schwartz (flute), Emily Mikel-Rowe (clarinet), Alexander Manley (baritone saxophone), Zook (baritone saxophone), Adam Karnik (trumpet), and Christian Holmes (percussion).  
Soundwaves are Samantha Alfaro; Shay Beeson; Lauren Bettis; Joanna Blue; Jordan Cooper; Kayla Cramatie; Aurelia Davis; Samuel Garrison; Tristin Jeffrey; Isabelle Mannell; Shannon Mitchell; Maddie Ostenson; David Ott; Andrew Quinones; Chloe Wells; and Jada Willis.  
In addition to the students from Soundwaves, the Concert Choir includes Dyann Chenault; Jeanne Dunham; Barb Frank; Don-Nee German; Elizabeth Grow; Harvey Johnson, Jr.; Tuija Ojala; Marina Peter; Stephanie Pollard; Betsy Trescher; Dennis Wojtczak; Mike Wolske; Cori Wright; and Ken Yates.   
The Concert Choir and Soundwaves' repertoire is just a taste of what is to come during their Winter Choral Concert.   
Selections for that event include everything from "Silent Night" and "Joy to the World" to lesser-known traditional songs such as "Betelehemu" and "Fum, Fum, Fum." There also will be a performance of Zook's composition, "Sanctus."  
"Both choirs have prepared a wonderful mix of music that celebrates traditions from around the world and close to home," Zook said. "It is also a personal thrill to have one of my original compositions performed on campus once again."  
Jill Garcia and Alexandra Lee serve as collaborative pianists for both concerts with Jim Kraus on the organ.  
Admission to both events is free and open to the public. A suggested donation of $5 collected at the door will benefit either Toys for Tots or area food banks. New, unwrapped toys can also be donated for the Holiday Collage Concert, while non-perishable food items will be accepted at the Winter Choir Concert.  
The Mendel Center is on the Benton Harbor Campus of Lake Michigan College, 2755 E. Napier Ave., Benton Harbor. 
To learn more about these events or Lake Michigan College's Visual & Performing Arts program, call (269) 927-8876 or visit www.lakemichigancollege.edu/arts.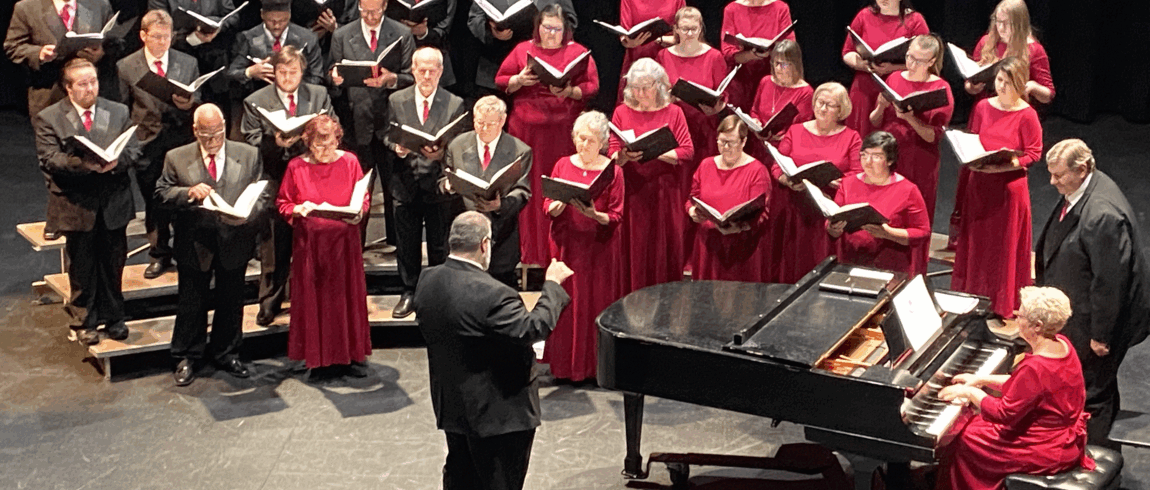 Media Contact