June 23, 2022
The Lake Michigan College Athletic Department has been named the 2021-22 Michigan Community College Athletic Association (MCCAA) Academic School of the Year.
Five of LMC's seven athletic teams had a combined grade point average of 3.0 or better, making them MCCAA All-Academic Teams during the 2021-22 seasons.
"It is a privilege to receive such an accolade," LMC Executive Director, Campus Life and Athletics Melissa Grau said. "We understand that preparing students for their futures means encouraging them to strive for excellence in all areas of their lives. We are so proud of our student athletes' accomplishments on and off the court and field but what is most important is their hard work in the classrooms of Lake Michigan College. We are blessed to coach and support these students to work hard and give their best at everything they do, and we understand it takes a village to build greatness." 
The award, presented at the annual MCCAA summer meeting, is determined by ranking each sport's GPA and assigning 100 points to the highest GPA, and descending point totals down the rankings. For example, if four schools compete in a sport, the best GPA gets 100 points, the second gets 75, the third gets 50, and the fourth gets 25.
A total of 53 LMC student-athletes in baseball, men's basketball, men's soccer, softball, volleyball, women's basketball, and women's soccer were named 2021-22 MCCAA Academic All-Conference. LMC's women's soccer program led the way with a combined 3.46 GPA and 11 players named to the MCCAA Academic All-Conference Team. The Red Hawks baseball program combined for a 3.08 GPA with 16 players achieving MCCAA Academic All-Conference status.
The National Junior College Athletic Association (NJCAA) will announce its 2021-22 academic awards next month.
To learn more about LMC Athletics, visit redhawks.lakemichigancollege.edu, email grau@lakemichigancollege.edu or call 269-927-6172.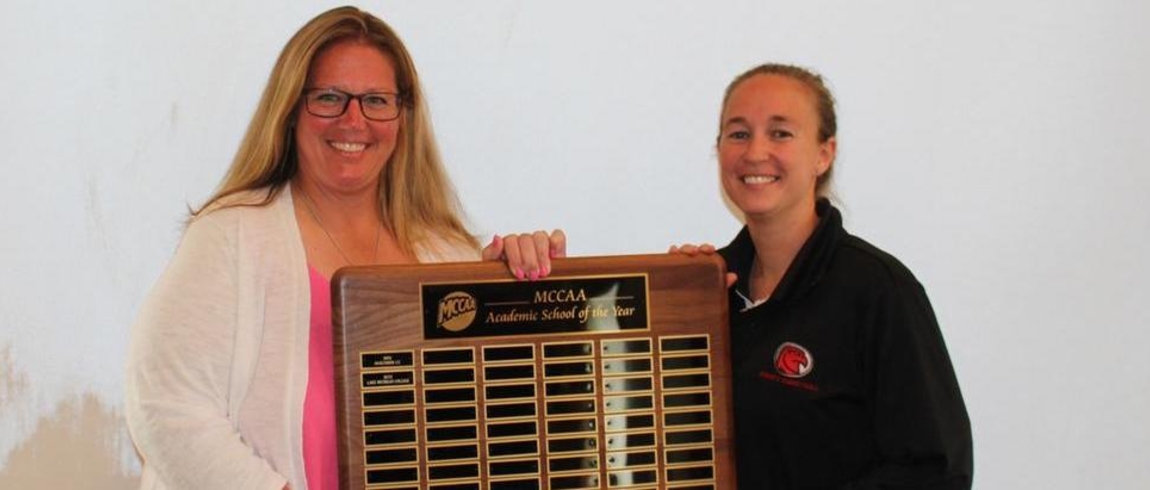 LMC Executive Director, Campus Life and Athletics Melissa Grau, left, and Associate Director, Athletics Sarah Svaboda.
Media Contact
Marketing & Communications Specialist