Jared Smith, Cody Wigginton receive Lake Michigan College's Spirit of Nursing Award for Fall 2022
December 20, 2022
Jared Smith of Mattawan and Cody Wigginton of Red Ray, Alabama, were named the recipients of Lake Michigan College's Spirit of Nursing Award out of 25 graduating nursing students for the Fall 2022 semester.
"Both Jared and Cody were nominated by multiple classmates and chosen among the nominees by the faculty to receive this award," LMC Nursing Director Denise Gardner said. "One peer said that Jared 'has a caring heart and shows compassion and concern for his classmates and all of his patients.' Another peer shared that 'Cody strives for excellence in his care of patients, his communication with faculty and peers, and he commits to acting with compassion and integrity toward everyone.' We are proud to bestow this honor on them." 
Smith works as a Nursing Extern at Bronson Lakeview Hospital Emergency Department in Paw Paw. He has spent the past six years working within the Bronson hospital system as a Certified Nursing Assistant (CNA) and Social Work Assistant. After graduation, Smith will continue to work for Bronson Lakeview Hospital Emergency Department as a Registered Nurse (RN). 
Smith is a 2015 graduate of Mattawan High School. Before LMC, he attended Kalamazoo Valley Community College, receiving an associate degree in general studies and his CNA license. 
"I am very honored that my classmates would think of me when it comes to this award and that the faculty of LMC also think that I deserve this award," Smith said. "Studying and participating in LMC's nursing program has been the best experience I could have hoped for and has truly prepared me to work as an RN." 
Wigginton works at Corewell Health South (formerly Spectrum Health Lakeland) in St. Joseph, where he has been a Nursing Technician in the Ortho Neuro unit for the past two years. After graduation, he will continue to work for Corewell Health South as an RN. 
Wigginton is a 2005 graduate of Vina High School in Red Ray, Alabama. Before LMC, he worked in customer service for Whirlpool Corp., receiving a Customer Service Certificate from Cleveland State Community College and a Whirlpool Continuous Improvement Fundamentals Certification. Wigginton also holds a bachelor's degree in business administration from Bryan College. 
"The first semester of nursing school was harder than the full four years of my business bachelor's degree," Wigginton said. "Before nursing school, I heard people say that your classmates are the reason you survive the program. You don't know what that means until you experience it. You find your people early and hang onto them for dear life for two years. Nursing school was tough and a lot of work, but it's been worth it because of my classmates. To be recognized means a lot to me, but we all deserve the Spirit of Nursing Award." 
The LMC nursing faculty awards the Spirit of Nursing honor for the Fall and Spring cohorts. Nursing students eligible for the Fall 2022 award began their nursing course studies in the Spring 2021 semester. 
Criteria for the award include a caring attitude towards patients and peers, the ability to collaborate in academic and healthcare settings, an attitude of inclusivity, civility, and respect for diversity, a demonstration of integrity and ethics, and a commitment to excellence and leadership. 
For more information about LMC's nursing program, visit lakemichigancollege.edu/nursing.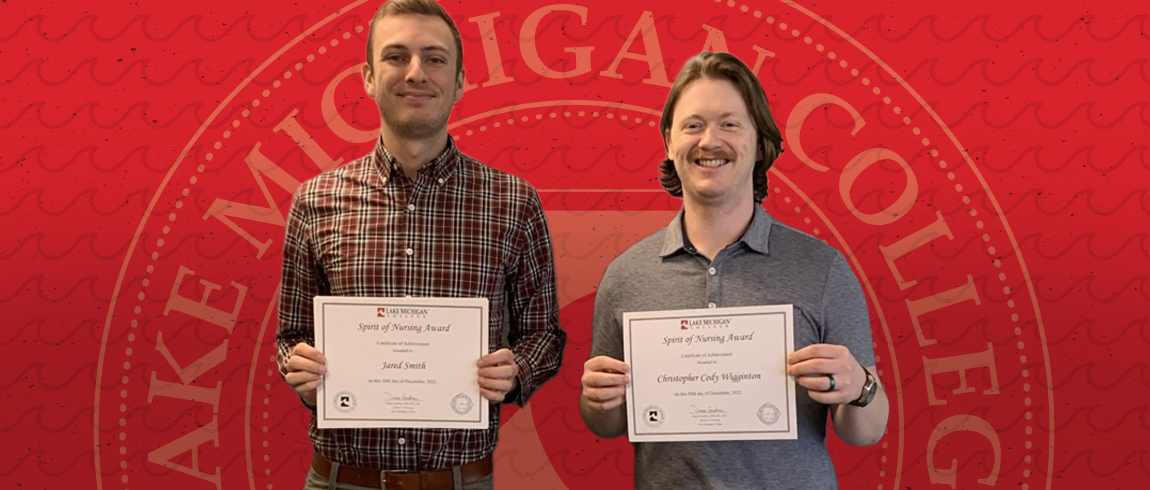 Jared Smith, left, and Cody Wigginton
Media Contact
Marketing & Communications Specialist