Hours
Monday through Thursday
7:30 a.m. to 3 p.m.* 
Friday
7:30 a.m. to 2 p.m.* 
Mosaic on Campus offers students, LMC employees and community members barista service, salads, sandwiches and grill options right on the Benton Harbor Campus! Located on the first floor, next to the Hawk's Nest and across from the bookstore, Mosaic on Campus is a partnership with Mosaic Christian Community Development Association.
Mosaic CCDA
Mosaic on Campus is a partnership between LMC and the Mosaic CCDA. Mosaic runs Mosaic Resale and Mosaic Property Services, as well as Mosaic on Main, a full-service restaurant and coffee shop located on Main Street in Benton Harbor. Like the downtown Benton Harbor restaurant, Mosaic on Campus will not only offer food and barista service overseen by Chef Sam Hybels, but will also provide on-the-job training for employees as part of the Mosaic Opportunity Job Training Program.
This partnership will also provide Mosaic employees with a pathway to LMC's degree programs in Hospitality and Culinary Management. 
The Mural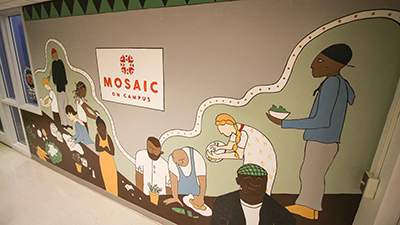 "My hope is that this mural project at LMC will invite people into the new cafe space with a kind of warmth and belonging."
Bethany Darling - Mural Artist
For the Mosaic on Campus mural at Lake Michigan College, artist Bethany Darling worked with an old-school projector and free-hand drawing. She used permanent marker for the drawings and wall paint for the color. She says that she was inspired by the artist Jacob Lawrence: 
"He painted with a limited color palette and included a lot of imagery of working-class people with simplified shapes, primary colors and earth tones, and nondescript facial features. Mosaic is about lots of different kinds of people, with different backgrounds and talents, coming together to learn and make something beautiful."
Bethany earned a K-12 teaching degree from Bethel University in St. Paul, Minnesota, and has taught art at co-ops and after-school programs in the (Minnesota) twin cities and now in southwest Michigan. She has dabbled in many art forms, although she tends to return to painting. 
More from Bethany: 
"This mural is a culinary scene of figures, working in the kitchen. Two tables converge in the foreground, bringing the figures on both sides, together. It is youthful, diverse, and has a geometric motif on the top border, to bring in the green color from the main cafe area (colors that are also used in their cafe downtown, Mosaic on Main).
"As a kid, I used to collect pieces of old drywall that I'd find at work sites. I'd carry them down to the beach (I grew up in the area, very close to Lake Michigan), and I would bring my mom's leftover wall paint.  I remember loving the freedom of working on a big space, moving my arms and whole body to create colors and shapes. Watching something come to life close up, and then seeing it in a different way, stepping back, is a really fun process.
"Lake Michigan College...draws many different types of students, to pursue many different types of education -- full-time and part-time students, adults and youth, transfer students and those who live on campus. The mural is a celebration of togetherness--of our differences and sameness."