MLK Week - Artistic Expressions
Artists around the community were encouraged to submit their creative reflections on Dr. Martin Luther King Jr. as part of the MLK Celebration Week.
Submit your own Artistic Reflection using this form.
2023 Entries
Visual Art
---
2023 Entries
Performing Art
Deliverance Mass Choir - Ride on King Jesus
Director: Damaris Morris
Cameron Hampton - Let Us Break Bread Together
A spiritual arranged by Moses Hogan. Alexandra Lee, collaborative pianist.
Niles Public Schools Eastside Connections
7th Grade Art Class
"What is your dream for 2022?" project for Black History Month, reflecting on MLK's famous 1963 speech
Niles Public Schools Ring-Lardner
Middle School Art Class
"What is your dream for 2022?" project for Black History Month, reflecting on MLK's famous 1963 speech
Poetry
Acceptance Thoughts of an Old White Lady
Diversity, Equity, Inclusion
Stuff of modern day culture, right?
But, really?
Do you include your son's gay partner?
Do you think Muslim's are terrorists?
Do you accept your daughter's black husband?
Do you smirk at the idea of the Native American's pow wows?
Who is excluded from your circle of friends?
So, how much has changed?
Really?
Do you think of gay people as sinners?
Or most Blacks aren't really all that smart?
Or most Native Americans are drunks?
Or most Muslims are sexists?
I would challenge you to think in terms of love.
You probably love a parent, partner or child.
And you might love a certain type of music or nail polish color or your car.
These are different types of love are they not?
Can you stretch yourself to love everyone, not matter what? Not the parent, partner or child type of love, but rather the music or nail polish or car type of love.
Or maybe a love a little by just accepting everyone just as they are?
Can you?
Dyann Chenault
An LMC senior student
---
2021 Entries
Artists were asked to provide their age to add context for the viewer - to illustrate, for example, whether they lived through the civil rights movement.
Visual Art
Performance
Movement 1 Prelude
Movement 6 Toccata
Cantata for Voice and Piano
Lynn Atkins, Pinelands Regional High School, Toms River, NJ
31-40 years old
Vocal performance. Composed by J. Carter (1932-1981); Collaborative pianist is Elizabeth McBride
MLK
James Cooper, Lake Michigan College
Jazz composition. Performed by the faculty of Blue Lake Arts Camp, summer 2018.
Change the World
Skyje
21-30 years old
Songwriting, performance.
Lift Every Voice and Sing
All God's Children Choir, LMC Choirs, Faculty and Friends
Composed by James Weldon Johnson & J. Rosamonde Johnson; arranged, directed and edited by Kris Zook.
We Shall Overcome
All God's Children Choir, LMC Choirs, Faculty and Friends
Traditional Spiritual; arranged and directed by Kris Zook.
Now is the Time
Kris Zook, Lake Michigan College
41-50 years old
Orchestral composition.
Motherless Child/8:46 Project
Virtual choir.
Kibra VanHorn
41-50 years
Stage play cast from Benton Harbor, Mich.
Dance
Letter from the Birmingham Jail
Dancesation Dance Studio
11-20 years old
Modern dance. Music by Beyonce; original choreography by Ajah Thompson Fisher.
Historical Artifact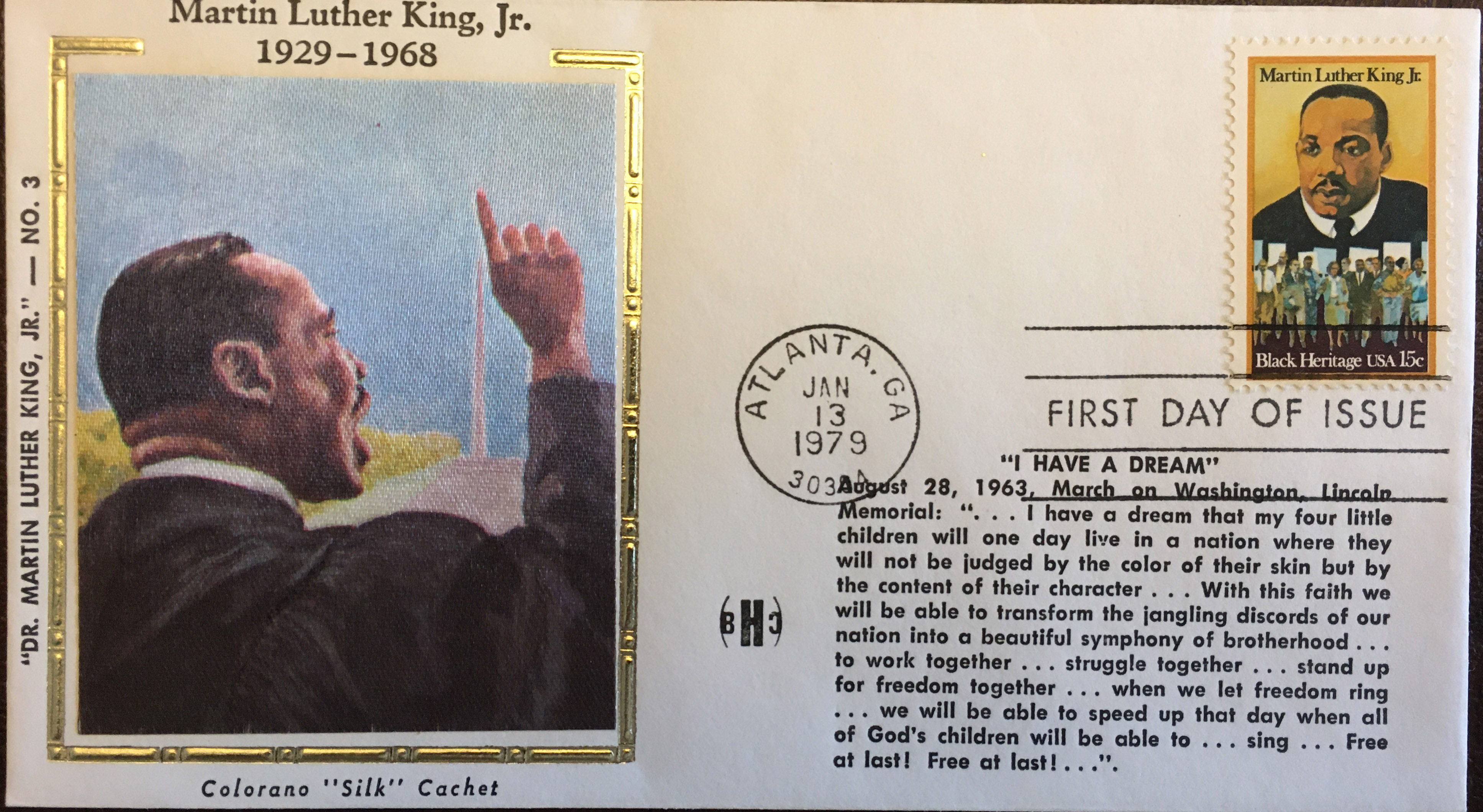 MLK Stamp Collection
African American History and Literacy Gallery, Benton Harbor
The African American History & Literature Gallery in Benton Harbor houses a collection of Martin Luther King Jr. stamps from around the world. The museum-quality stamp collection was donated to the gallery by Margy Davis and Miriam Nason from Buckeye, Ariz. Read more about the collection.