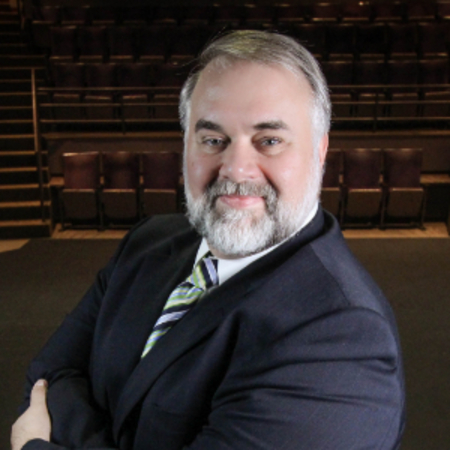 DEPARTMENT
Arts & Sciences Education
Kristopher Zook, MM, BM, BM is currently serving Lake Michigan College as the Dean of Arts & Sciences Education, where he oversees the departments of Mathematics, Natural Sciences, Exercise Science & Wellness, Rhetoric, English, Communications & World Languages, Social Sciences, Humanities & Education, Visual & Performing Arts, English as a Second Language, the William Hessel Library, Learning Assistance & Testing Services, the Writing Lab, and the Lake Michigan College Mendel Center.
He additionally maintains an active schedule as conductor, baritone soloist, composer, director and music teacher. Mr. Zook holds a Master of Music degree in Vocal Performance and Pedagogy from Westminster Choir College, Princeton, NJ.  Mr. Zook also earned two Bachelor of Music degrees in both Music Education and Composition from Westminster College, New Wilmington, PA.  He has appeared as the Bass Soloist for Mozart's Requiem with members of the Pittsburgh Symphony, as well as a variety of operatic, oratorio and musical theater roles.  He was twice named Best Actor in Pennsylvania's longest running Shakespeare Festival and has appeared as a back-up singer for such personalities as Rosemary Clooney and Maya Angelou.  As a chorister he has performed on the regular seasons and recorded on numerous occasions with the Orchestra of St. Luke's, the NJ Symphony, the Philadelphia Symphony, the Vienna Philharmonic and the New York Philharmonic Orchestras. He has appeared on National Public Radio and PBS Live from Lincoln Center multiple times. Some of which were Grammy nominated recordings.
Conducting credits include the NJ All-State Opera Chorus, the 2002 and 2013 NJ All-Shore Choruses, as well as numerous competitions, national and international performance tours and cameo performances with the rock band, Foreigner, Ben E. King, Joe Piscopo, Deana Martin and Max Weinberg. Mr. Zook has served as a church musician at several houses of worship, including the historic Elberon Memorial Church. Mr. Zook served as a music educator at the Red Bank Regional High School Academy of Visual and Performing Arts, Little Silver, NJ, where he was nominated for a Grammy Award as Music Educator of the Year and separately as a finalist for the Disney Teacher of the Year. Subsequently, he has been the Chair of Visual & Performing Arts/Director of Music at Lake Michigan College in Benton Harbor, MI. 
He founded and directed the Red Bank Regional Summer Academy for the Visual & Performing Arts, an annual summer enrichment program, and RBR's independent record label, Swashbuckler Records, and the Lake Michigan College WAVE Awards for Excellence in High School Musical Theatre. During the summers he currently serves as a director of the Musical Theatre Intensive and Teenstock Productions. Furthermore, he was the founding director of the Central Jersey Youth Chorale, a community outreach program sponsored by the Count Basie Theatre, Red Bank, NJ. Mr. Zook served as an Adjunct Professor of Voice at Monmouth University and is an active member and clinician for the American Choral Directors Association, Michigan State Vocal Music Association, New Jersey Music Educators Association/ National Association for Music Education, ASCAP and served as the Governor of the New Jersey Chapter of the National Association of Teachers of Singing.
Mr. Zook's musical compositions are published by Music Geek Publishing and span the gambit from solo works to grandiose works with multiple choirs and orchestra. Awarded a Count Basie Award for Outstanding Musical Direction, he has been the Musical Director or Artistic Director for numerous staged productions from plays to musicals to operas.  His former students are currently studying at competitive conservatories and music schools, while many have impressive careers in various facets of the music field. His wife, Amanda, and twin daughters, Norah and Eliza, inspire him to live life to the fullest each day.
Ready to get started?
Connect with us! Request more information or apply today, and we'll send you everything you need to begin your journey at LMC.