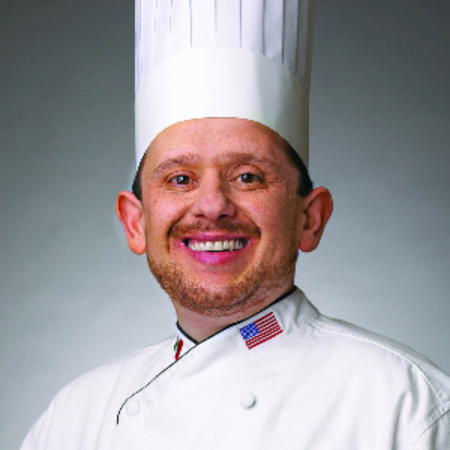 Faculty, Culinary Management
DEPARTMENT
Career & Workforce Education
A Certified Executive Pastry Chef by the American Culinary Federation and member with more than 20 years of experience in post-secondary culinary education. A native of Guadalajara Mexico where he owns and operates a culinary consulting company specialized in International Cuisine and Confectionery Arts.
Education: An Associate's degree in Culinary Arts from GRCC and a Bachelor's degree in general education from Baker College. Additionally, he has taken numerous continuing education courses and attended seminars in Germany, Spain, Canada and Mexico.
Professional Memberships: Member of the American Culinary Federation since 1992. Mexican Chefs Federation, International Food Service Executive Association.
Contributions: Often invited to serve as head judge in National and International Culinary Competitions- Presenter/ guest speaker in various universities and resort in US, Mexico and Latin America. Constantly involved in multiple fundraising opportunities throughout the world helping different charitable organizations such as March of Dimes, Share our Strength, Every Woman's Place and the Mexican Red Cross
Articles:
http://www.acfchefs.org/ACFSource/Recipes/?id=811
http://www.mlive.com/food/index.ssf/2014/05/the_spunky_kitchen_heres_the_r.html
https://www.nytimes.com/2016/02/12/world/americas/oaxacas-native-maize-embraced-by-top-chefs-in-us-and-europe.html?mcubz=0&mcubz=0
http://www.sandiegouniontribune.com/hoy-san-diego/sdhoy-chefs-hispanos-promueven-tradiciones-culinarias-2013sep27-story.html
https://www.newspapers.com/newspage/211156367/
http://www.pastryprofiles.com/Pastry_Chef_Luis_Amado.html
http://www.mlive.com/entertainment/muskegon/index.ssf/2012/04/culinary_institute_of_michigan.html
Professional/Real-World Experience: Prior to becoming an educator, I worked as executive chef, and executive pastry chef in various settings including five star hotels, fine dining restaurants and private country clubs. I believe you never stop learning and am passionate about teaching others.
Social Links: Instagram= Luisamado777
Personal website = www.luisamado.net
Personal Mantra: Do it right or don't do it at all.
Bachelor of General Education, General Studies; AAS Culinary Arts, Culinary
Ready to get started?
Connect with us! Request more information or apply today, and we'll send you everything you need to begin your journey at LMC.