LMC Concert Choir, Sound Waves present Comedy & Tragedy concert
April 15, 2019
The Lake Michigan College Performing Arts Department presents "Comedy & Tragedy," a vocal choir concert featuring the LMC Concert Choir and its chamber ensemble, Sound Waves, at 7 p.m., Tuesday, April 23 in The Mendel Center Hanson Theatre on the Benton Harbor campus.
The choir and ensemble, under the direction of LMC Music Director Kristopher Zook, will sing a vast vocal repertoire including excerpts from Wolfgang Amadeus Mozarts's Requiem in d minor, K. 626; "Comedy Tonight" from Stephen Sondheim's "A Funny Thing Happened on the Way to the Forum"; "Chorus of the Hebrew Slaves," from Giuseppe Verdi's "Nabucco"; and Larry Wurtzel's "Boneless Chickens Can Not Cross the Road."
"The concept for this concert can be summed up in two expressions," Zook said. "'If we don't learn our history we are doomed to repeat it,' and 'A straight line may be the shortest distance between two points, but laughter is the shortest distance between two people.' Join us as we explore tragic events from our world and celebrate life with fun, laughter and other amusements." 
The program also features works by composers such as P.D.Q. Bach, Daniel J. Hall, Kurt Knecht, Gioachino
Rossini, Shawn Kirchner, and more. 
The LMC Sound Waves, which is new to the campus community, features a select group of student vocalists who are admitted by audition and have a passion for high-quality, advanced choral repertoire. Current members are sopranos, Amber Case, McKenna Munson, and Brooke Rodriguez; alto, Lauren Cerka; tenor, Tristan Wright; and bass, Angelo Patterson, and Gabriel Wright.
The LMC Concert Choir is a mixed voice choral ensemble that features LMC students and community members from throughout Berrien County and beyond. The group performs regularly on the concert stage, both at The Mendel Center and throughout Southwest Michigan. Most recently the choir has performed at the St. Joseph Kiwanis club, at The Heritage Museum & Cultural Center, at Point of Woods Country Club and for area senior living facilities, businesses and community events.
In addition to the students in Sound Waves, the Concert Choir includes sopranos, Marcheta Baxter; Penny Jones Brant; Barb Frank; Don-Nee German; Madison Mead; Amy Reutlinger; and Corri Wright; altos, Dyann Chenault; Jill Garcia; Abbey Muller; Pandora O'Neal; Marina Peter; Stephanie Pollard; Barbara Schofield; Darien Scott; Betsy Trescher; and Ray Wallsten; tenors, Allison Gardner; Harvey Johnson, Jr.; Richard Johnson; Carol Orlaske; and Dennis Wojtczak; and bass, Josh Goines; Harvey Johnson, Sr.; and Ken Yates.
Admission is free and open to the public. A $5 suggested donation will be collected to benefit Michigan water quality efforts.
Contact the Lake Michigan College Performing Arts Department at (269) 927-8876 or visit the program webpage to learn more about the college's performing and visual arts programs.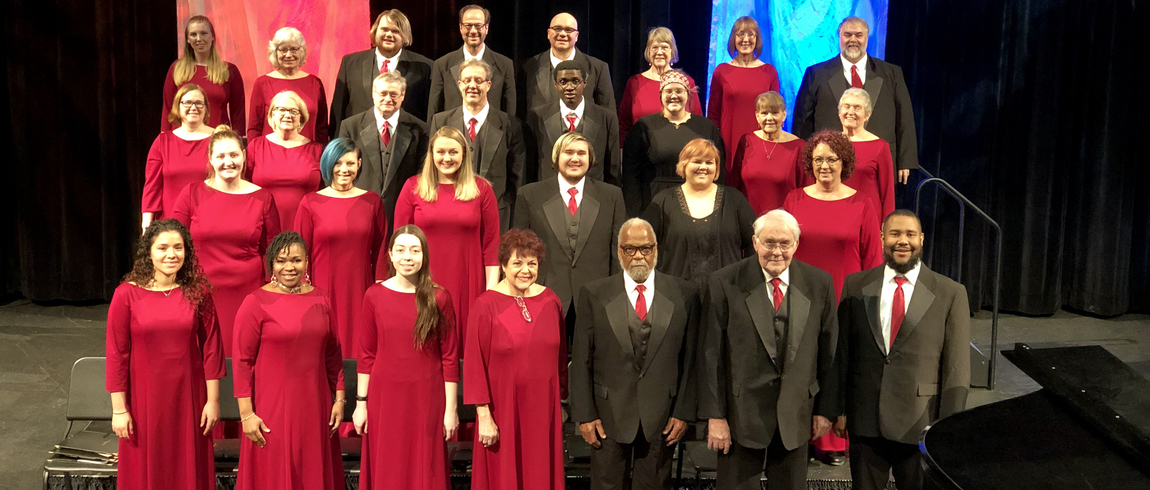 The LMC Concert Choir.
Media Contact