The Economic Club of Southwestern Michigan Speakers Series announces the 2019-2020 speaker lineup
May 1, 2019
A six-speaker regular season lineup, a Young Professionals special presentation, and several newly introduced format and membership enhancements are highlights of the upcoming 2019-20 Economic Club of Southwestern Michigan Speakers Series hosted by The Mendel Center at Lake Michigan College.
 
Season speakers include:
Oct. 16 – Col. Nicole Malachowski (USAF, Ret.) - the first woman Thunderbird pilot, combat veteran, fighter squadron commander, White House Fellow and advisor
Nov. 2 - Ann Curry - Emmy Award-winning journalist, executive producer & reporter for the PBS series We'll Meet Again
Dec. 2 - Mitch Albom – author, columnist, and radio host
Mar. 18 - The Honorable Malcom Turnbull – former Australian Prime Minister, 2015-2018
Apr. 8 – National Geographic Live: Brian Skerry – underwater photographer
May 19 - Henry Winkler - Emmy Award-winning actor, author, director, and producer
The Young Professionals special presentation speaker:
Feb. 11 - Nic Sheff - Author, recovering addict, and subject of Beautiful Boy
"We look forward to welcoming this incredible mix of thought-provoking speakers to The Economic Club of Southwestern Michigan Speakers Series. They promise to share a wide range of relevant perspectives and inspirational messages with our audiences," states Mike Nadolski, executive director of The Mendel Center at Lake Michigan College and director of The Economic Club of Southwestern Michigan Speakers Series. 
 
Format and membership enhancements include:
All speaker keynote presentations will be delivered in The Mendel Center Mainstage, a change from previous years when main presentation were delivered in The Mendel Center Grand Upton Hall.
Membership options that offer expanded levels of convenience and flexibility.
Young Professionals membership options.
Reserved seating for all attendees with tiered pricing options.
The option for all Speaker Series members to add pre-speaker dinners to their experience. Dinner tickets that remain following the membership drive will be made available to the public.
The addition of 15- to 30-minute presentations by local topic experts or local entertainment during pre-speaker dinners.
"A lot of thought has been put into these enhancements. We continually look for ways to improve the sustainability of the Speakers Series. By exploring the possibilities and asking for input from members, sponsors, contributors, and community leaders, we feel patrons will have a more comfortable, convenient, and enjoyable experience this season," Nadolski states.
 
2018-19 Speakers Series members have the first opportunity to purchase season memberships beginning May 1. If memberships remain available, registration for new members will begin June 5. Individual speaker tickets go on sale June 12. 
The Speaker Lineup
Six regular season speakers are planned for the 2019-20 season. 
Nicole Malachowski
First woman Thunderbird pilot, combat veteran, fighter squadron commander, White House Fellow and adviser
Wednesday, October 16, 2019, 7:30 pm
Col. Nicole Malachowski (USAF, Ret.) defies stereotypes. Yes, she was a jet fighter pilot, but if you think you know her based on that, you'd be wrong. A leader, a combat veteran, the first woman pilot on the Thunderbirds Air Demonstration Squadron, a White House Fellow, and an inductee into the Women in Aviation International Pioneer Hall of Fame, Malachowski's distinguished 21-year Air Force career exceeded her wildest dreams. But the dream came to an end when a devastating tick-borne illness left her unable to speak or walk for ten months. An indomitable spirit, Malachowski fought back against overwhelming odds and prevailed. Drawing on stories from her career and personal life, Malachowski will inspire you to rethink everyday challenges during her presentation, "Harnessing Headwinds of Change." Her message will address three key beliefs: failure and risk are the price of entry for achieving something great; sometimes you need to yield to overcome; and her personal mantra – "nobody wants to lead a scripted life."
Ann Curry
Emmy Award-winning journalist, executive producer & reporter for the PBS series We'll Meet Again
Saturday, November 2, 2019, 7:30 pm
Award-winning journalist and photojournalist Ann Curry is the executive producer and reporter of We'll Meet Again, a PBS series that features reunions of people whose lives crossed, and then separated, at pivotal moments and during world-changing events. A former NBC News anchor and international correspondent, Curry has covered the wars in Syria, Darfur, Congo, the Central African Republic, Serbia, Lebanon, Israel, Afghanistan, and Iraq, as well as reported on nuclear tensions in North Korea and Iran. She has also reported humanitarian disasters, including the tsunamis in Japan and Southeast Asia, and the 2010 earthquake in Haiti during which her appeal via Twitter (@AnnCurry) is credited for helping to speed the arrival of humanitarian planes. During "An Evening with Ann Curry: Being a Tour de Force of Determination and Making a Difference in the World," she will share stories, grounded in her experiences, that will invigorate and inspire.
Mitch Albom
Author, columnist, and radio host
Monday, December 2, 2019, 7:30 pm
Author of Tuesdays With Morrie, philanthropist, columnist, and sports reporter Mitch Albom is an inspiration around the world. His books have sold over 39 million copies and have been translated into 45 languages. While nationally recognized for his sports writing, Albom is perhaps best known for the themes of hope and kindness woven through his books, plays, and films. He is the author of eight bestselling books, with five debuting at #1 on the New York Times Best Seller List, including The First Phone Call from Heaven; Have A Little Faith; The Five People You Meet in Heaven, and its sequel, The Next Person You Meet in Heaven. Albom's next work, Chika: A Little Girl, an Earthquake, and the Making of a Family, is the true story of Chika, a young Haitian orphan whose short life would forever change Albom's heart. In his presentation, "Why Every Life Matters," he will speak about how we are all connected and we all have influence, so it is our responsibility to do whatever we can — wherever we are to make the world a better place.
The Honorable Malcolm Turnbull
Former Australian Prime Minister, 2015-2018
Wednesday, March 18, 2020, 7:30 pm
Malcolm Turnbull, the 29th Prime Minister of Australia, possesses a unique and timely understanding of the current geopolitical moment. As Prime Minister, he forged lasting connections with leaders around the world and speaks to the influence that their politics have on the world at large. During his tenure, Turnbull was also involved in key policy decisions that have not only altered Australian society but also have international implications for other countries facing similar issues—same-sex marriage, environmental conservation and energy crises, global trade, cyber security, and the ever-worsening refugee crisis. Prior to taking public office, he was a successful entrepreneur and businessman who worked his way to the top of a major global investment banking firm and founded several businesses at home and abroad. Intelligent, humorous, candid, and charismatic, Turnbull shares his valuable insights into issues that are impacting the world during "An Evening with Malcolm Turnbull."
National Geographic Live: Brian Skerry
Underwater photographer
Wednesday, April 8, 2020, 7:30 pm
For more than 20 years, wildlife photographer Brian Skerry has captured "the soul of the sea" for National Geographic. His images celebrate the mystery of the depths and offer portraits of creatures so intimate they sometimes appear to have been shot in a studio. Skerry dives eight months of the year, often in extreme conditions beneath Arctic ice or in predator-infested waters, and has even lived at the bottom of the sea to get close to his subjects. His book, Ocean Soul, is a stunning tribute to our seas. In this presentation of the same name, Skerry takes us from the glacial waters of the North Atlantic, where harp seals face off with commercial hunters, to the balmy central Pacific, where he photographed damaged coral ecosystems rebuilding themselves. In Canada's Gulf of St. Lawrence, he searches for the "thoroughbreds of the sea"—Atlantic blue fin tuna. And in the Bahamas, he joins researchers studying dolphin intelligence. A passionate spokesman for the oceans he loves to photograph, Skerry inspires reverence for the marine realm and offers hope for protecting it. During his presentation, "Ocean Soul," you will voyage across the oceans and discover a vast, hidden world beneath the waves.
Henry Winkler
Emmy Award-winning actor, author, director, and producer
Tuesday, May 19, 2020, 7:30 pm
From his breakout role as The Fonz on Happy Days to his current role co-starring as acting coach Gene Cousineau on the hit HBO dark comedy Barry, Henry Winkler has enjoyed over four decades of success as an actor, producer, and director. His big screen credits include Night Shift, The Waterboy, and The Lords of Flatbush. On stage, Winkler has appeared on Broadway in Neil Simon's The Dinner Party and The Performers. Beyond the stage and screen, Winkler is a New York Times best-selling author. Niagara Falls or Does It? Hank Zipzer the World's Greatest Underachiever, his first of 34 children's books written with co-author Lin Oliver, was inspired by his own struggles in school due to undiagnosed dyslexia. An advocate for quality children's programming, Henry has also produced countless projects for young audiences. During "An Evening with Henry Winkler," he will share humorous anecdotes and inspirational lessons based on his life and storied career.
Format and membership changes
Keynote presentations & reserved seating
New this season, speakers will deliver their keynote presentations in the Mainstage, The Mendel Center performing arts theatre. In previous seasons, the speakers made brief in-person appearances to the overflow audience in the Mainstage and delivered the main presentation to Grand Upton Hall attendees. 
 
By moving the main presentation to the Mainstage and eliminating the Grand Upton Hall address, attendees will enjoy a better all-around experience. More people will see the speaker presentations in person. All seats will now be reserved, eliminating the need for patrons to arrive early to secure their preferred seat. The Mainstage is also better suited for optimal sound, lighting, sight lines, and comfort. 
 
"Utilizing the Mainstage to its fullest extent makes sense for the comfort and enjoyment of everyone as we welcome these distinguished guests to southwest Michigan," stated Nadolski.
Pre-speaker dinners
For those who enjoy the social aspect and convenience of having dinner at The Mendel Center before speakers take the stage, that opportunity continues to be available. Grand Upton Hall buffet dinners begin at 5:30 pm, with a 15- to 30-minute program starting at 6:30 pm featuring local, relevant topics or entertainment. After dinner, it is a short walk through The Mendel Center to reserved seats in the Mainstage. Members may purchase this add-on option at a discounted member price of $25 per dinner. If dinner tickets remain following the membership drive, they will be made available for $35 to individual speaker ticket holders. Capacity will be limited.
Membership Packages
A variety of new membership options provide the best prices of the season and flexibility in choosing which speakers to see. 
6-pack membership – includes one ticket to each regular season speaker, pricing starts at $165 
4-pack membership – includes one ticket to the four speakers of your choice, pricing starts at $120 
A la carte membership - a flat membership fee of $50 with the ability to purchase one ticket per membership to as many or as few speakers as you wish, and the flexibility to choose a different seat location for each speaker, starting at $40 per speaker
As a benefit for Speaker Series members, the customary 10% convenience fee applied to online ticket orders will be waived during the early enrollment period. Those ordering package memberships online will keep the same seat location for the season, as available. All Speakers Series memberships continue to include Mendel Center Mainstage Performance Series member benefits including ticket discounts and pre-sale opportunities. Memberships will be capped at 1,000. Full details and pricing are listed at TheMendelCenter.com.
Young Professionals Membership
The Economic Club of Southwestern Michigan Speakers Series Young Professionals membership, designed for individuals under the age of 40, is returning for a second season. A limited number of YP memberships at two levels are available.
Young Professionals 6-pack + 1 membership – includes one ticket to each regular season speaker plus the Young Professionals special presentation, pricing starts at $160
Young Professionals 4-pack membership – includes one ticket to four speakers of your choice, pricing starts at $85
"We are pleased with the increased participation by young professionals in The Economic Club of Southwestern Michigan Speakers Series as a result of this effort last season. By making the Speakers Series more accessible to young leaders in our community, we help foster personal and professional growth through these first-hand experiences while building new levels of engagement in the Speakers Series," Nadolski adds.
 
All YP members are invited to participate in discussion and networking mixers immediately following the conclusion of each speaker presentation. The YP speaker for this season is:
Nic Sheff
Author, recovering addict, and subject of Beautiful Boy
Tuesday, February 11, 2020, 7:30 pm
Nic Sheff's heartbreaking and inspiring struggle with substance abuse disorder is the story of Beautiful Boy, a major motion picture starring Timothée Chalamet as Nic and Steve Carell as his father, David. The film, which earned Golden Globe and SAG nominations for Chalamet, is based on Sheff's New York Times bestselling memoir, Tweak: Growing Up on Methamphetamines and David's bestseller of the same title. Sharing an unglamorized, authentic, and heart-touching story of substance abuse and recovery that is deeply rooted in mental illness, Sheff has been recognized as "a life-changing speaker." In his talk, "Tweak: A Harrowing, but Hopeful Portrait of Addiction," he puts a compelling human face on our nation's substance abuse epidemic, encouraging those who struggle to embrace help and bringing hope to all who are touched by it.
 
6-pack members may add the YP speaker, starting at $10, by calling the box office. 4-pack and a la carte members may choose the YP speaker as one of their standard selections when ordering online.
 
To learn more about the season, visit www.TheMendelCenter.com or contact The Mendel Center Box Office at (269) 927-8700 option 1, weekdays 10 am to 6 pm.
 
***
About The Economic Club of Southwestern Michigan & The Mendel Center at Lake Michigan College
The Economic Club of Southwestern Michigan enters its 76th season. It has brought more than 435 world leaders, politicians, newsmakers, and experts to the region. The goal of this non-partisan series is to provide unique opportunities for personal and community growth by presenting a wide spectrum of ideas and viewpoints through commentary by innovative, energizing, and insightful national and international speakers. 
 
The Mendel Center is 30 minutes from Niles and 40 minutes from the Kalamazoo and South Bend areas. It is located on the Lake Michigan College campus at 2755 E. Napier Avenue, Benton Harbor, Michigan. The Mendel Center is one mile east of I-94 (Exit 30) and one mile west of the US 31 Bypass (exit 24). The GPS mapping address is 1100 Yore Avenue, Benton Harbor, MI.
 
Find #TheMendelCenter online at:
Facebook @mendelcenter
Instagram @TheMendelCenter
Twitter @TheMendelCenter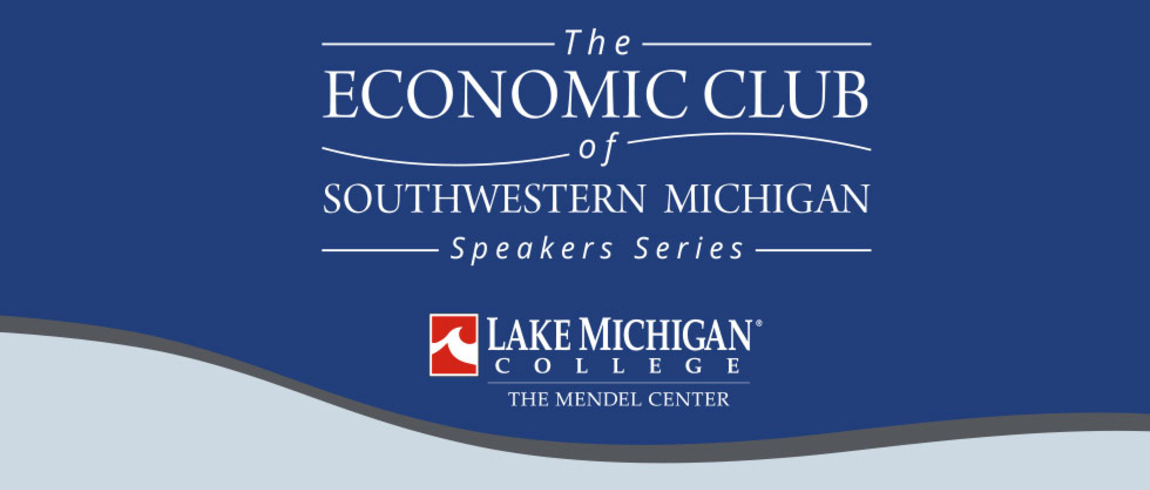 Media Contact