LMC to host grand opening for new Wine & Viticulture center
July 31, 2019
Lake Michigan College will hold a public grand opening and dedication ceremony to celebrate the new Welch Center for Wine and Viticulture on its Benton Harbor Campus from 4 until 7 p.m. on Tuesday, Aug. 27.
The Welch Center is LMC's new $7 million, 14,000-square-foot teaching winery. The facility is designed to provide Wine & Viticulture Technology students with a state-of-the-art environment to gain a hands-on education in the art, science, and business of winemaking.
"The new center will help teach students how an efficient winery should operate," said Michael Moyer, Director of LMC's Wine & Viticulture Technology Program. "I've seen a number of facilities at various colleges in the U.S., and for an academic program, this winemaking facility is unrivaled."
The Welch Center is named in honor of Mike and Lisa Welch, who are longtime supporters of Lake Michigan College.
"The great support from our community and local wine industry is what has made this program and facility possible," Moyer said. "It's a big deal for the area. A world-class educational facility helps put our wine region on the map."
Lake Michigan College established the Midwest's first commercial teaching winery in 2015 to meet the demands of Southwest Michigan's thriving regional wine industry. After operating in a temporary two-room laboratory in The Mendel Center, LMC broke ground on the new Welch Center in May 2018.
The facility features a new grape press, large tank and bottling rooms, a dry storage area, and a laboratory. There are two classrooms, three offices, a workroom, and an open commons area for wine tasting, community education classes and special events.
In 2017, Lake Michigan Vintners winery opened a tasting room in Baroda, Michigan, where LMC wine students work to gain tasting room operations experience. The tasting room will likely relocate to the new Welch Center in early 2020.
The dedication and ribbon-cutting ceremony will begin at 4 p.m. followed by a public open house.  Speakers include Debra Johnson, chair of LMC's Board of Trustees; LMC President, Dr. Trevor Kubatzke; LMC supporters, Mike and Lisa Welch; John Braganini, president of St. Julian Winery; and Adam McBride, owner of Hickory Creek Winery and current LMC Wine & Viticulture Technology student.
The Welch Center is located at 2774 E. Empire Ave. Parking is available in Lot A, off Yore Avenue, north of The Mendel Center with shuttle service to the wine center. Those planning to attend the dedication should RSVP by Aug. 11.
For more information or to RSVP, call 269-927-6579 or visit www.lakemichigancollege.edu/welchcenteropening. For information about LMC's Wine and Viticulture Technology program, visit www.lakemichigancollege.edu/wine.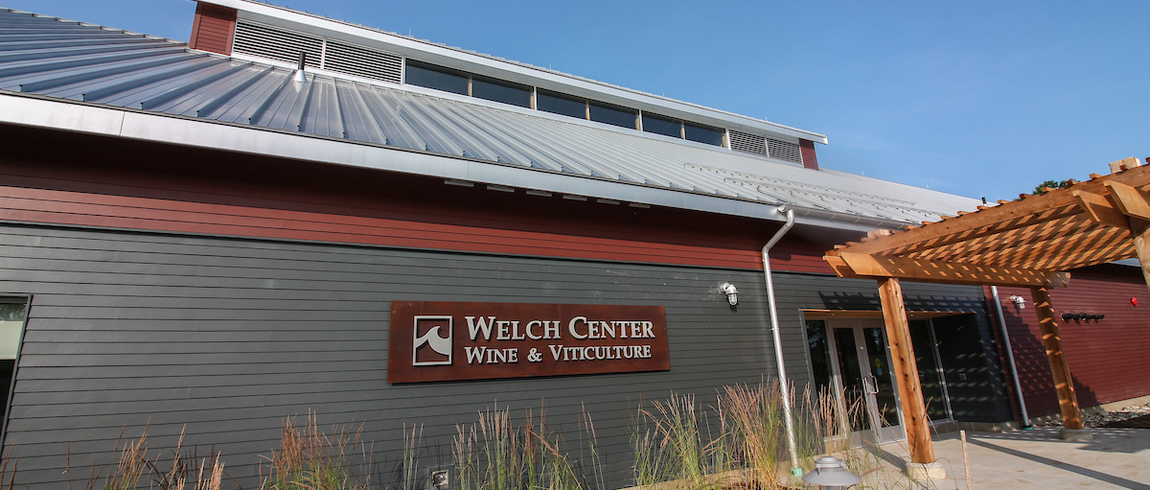 Welch Center
Media Contact