Nursing celebrates milestone with an eye toward the future
November 21, 2019
Joseph Effa was working in construction when the economy took a sudden turn, and he realized it was time for a career change. 
"I wasn't sure what I wanted to do," he said. "I was looking at going into some sort of public service. That meant becoming a police officer or teaching, but then I went to Lake Michigan College and discovered nursing and it just grabbed my soul." 
A fellow LMC nursing student, his future wife, Kathy Effa, meanwhile, took his heart. They both finished their nursing associate in science degree in 1985. Thirty-four years later, the couple, who both work in leadership roles at Spectrum Health Lakeland, credits their time at Lake Michigan College for establishing the foundation for their careers. Joseph Effa is an administrator for Lakeland Homecare, while Kathy Effa, is the hospital's emergency department manager. 
"Our LMC education set us up for success throughout our entire careers," Kathy Effa said. "To this day, I still love nursing, and it's all because of the foundation I learned at LMC." 
LMC celebrates the 50th anniversary of its associate degree program for registered nursing (RN) this fall. While basic science and academic courses of the Mercy School of Nursing were taught at Benton Harbor Junior College in the late 1940s, and LMC also has offered a licensed practical nurse certificate program (LPN), the establishment of the RN program has made a large and lasting impact on health care in the region. 
"Many of the nurses in the health system locally are our grads," said Dr. Dana Jenkins, LMC's Program Chair/Director of Nursing. "They are proud of where they came from and what they've learned. I think that speaks to our reputation." 
LMC's nursing program received full approval from the Michigan Board of Nursing in 1978 and has been accredited by the Accreditation Commission for Education in Nursing since 1981, with a re-accreditation visit scheduled for the spring of 2021. 
Historically, the program has a job placement rate of 100 percent within nine months of graduation, and an impressive pass rate on the state board exam. For example, 96 percent of the 2018 graduating class passed the state board exam on their first attempt. 
"Students from LMC are way more prepared to come out and hit the ground running than even some four-year programs," Joseph Effa said. "LMC has been successful because its students are ready to perform." 
Supported by eight full-time faculty members, 26 part-time faculty, and two staff members consisting of a Nursing Education Center (NEC) manager and Simulation Tech, LMC's program continues to adapt to a changing landscape.  
In June 2016, the Lake Michigan College Board of Trustees approved $184,062 to update and enhance the Health Science Simulation Lab. The Lakeland Foundation supported the enhancement by purchasing a SimBaby baby manikin for the project. A Michigan State Board of Nursing grant for $12,121 received earlier this year helped purchase additional simulation equipment, including a Hearing Distressing Voices Simulation, a Nursing Kelly manikin with handheld remote and software, a manikin carry bag and two IV simulation trainers. 
LMC's new simulation lab now features four high-fidelity manikins and four beds with eight more beds in the NEC skills lab. The program also uses a Pyxis MedStation, the automated medication dispensing system used in hospitals today. 
"We now have a real debriefing room, which is a key part of simulation," Jenkins said. "The new spaces allow us to have more rooms for simulation scenarios and an increase in technology to perform our simulations in a more real-world experience." 
A forthcoming curriculum revision will allow students to enter the program in either the fall or spring semester beginning in the fall of 2020. This will allow for an increase from 88 to 96 students per academic year. 
"One of the things that speaks to our success is the ability to evolve," Jenkins said. "The nursing school of 50 years ago looked a lot different than nursing school today." 
Despite technological enhancements, the true success of the LMC program is centered on the continued focus on those who choose nursing as a profession. 
"The spirit of nursing is still going strong," said Shelley Hennen, who has taught nursing at LMC since 1979 and has been a full-time faculty member since 2003. "Students come into nursing because they want to help people. I think that's the bottom line." 
That's undoubtedly true for Luis Benitez, who graduated from the LMC program in May, and now works in the oncology unit at Spectrum Health Lakeland. While he knows his career has just started, he already knows where he hopes it will lead. 
"Everything that I learned at LMC I now use in practice," he said. "I know I want to keep going further. I have just started working on my bachelor's, and eventually, I know that I also want to teach. Someday I hope I, too, can come back and teach at LMC."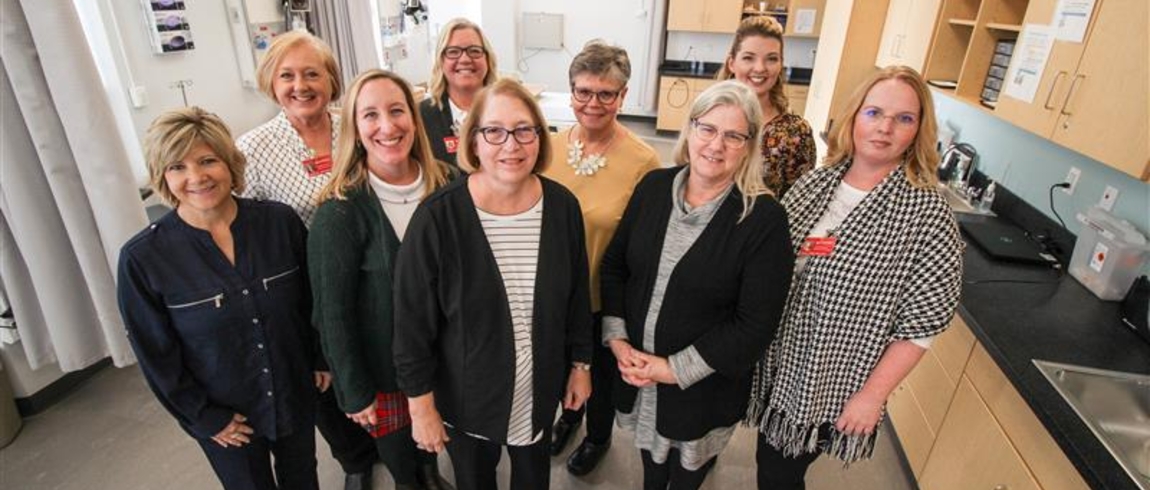 Media Contact