The official quarterly newsletter
of Lake Michigan College
Summer 2020
LMC's Fab Lab has produced and given away nearly 1,900 face shields and more than 1,000 ear savers for mask wearers. Thanks to a new shipment of elastic, they are now ramping up production on cloth face masks with 50 given away to date. The ongoing project is part of a college-wide effort to help workers in health care and other industries in the community who must be out in the field to do their jobs.
Safety restrictions put in place at the local, state, and national level to stop the spread of COVID-19 has meant the unprecedented cancellation and postponement of multiple performances for LMC's Visual & Performing Arts Department as well as both the Mendel Center Mainstage and The Economic Club of Southwest Michigan Speaker Series. With the Mendel Center closed to patrons, LMC faculty and staff have turned to online resources to offer some performances virtually, while rescheduling many others.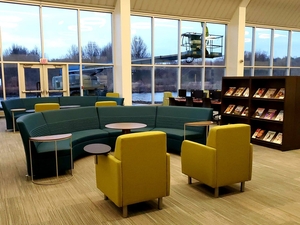 Diane Baker sits down in one of the study rooms on the second floor of the