Members of LMC's 2020 nursing class reflect on starting career during COVID-19 pandemic
February 26, 2021
In the early days of the COVID-19 pandemic, Grace Barner took refuge in the 30-minute commute from the parking lot of Lakeland Medical Center in St. Joseph to the driveway of her family's farm in South Haven. 
"As a new grad, I took a lot of these patients home with me," she said. "I did a lot of crying it out in the car. I hadn't yet learned how to leave it at work. Even now, I think about some of these people all the time. I think a lot of nurses do." 
Barner, who works in the Intensive Care Unit at Spectrum Health Lakeland, is a member of Lake Michigan College's 2020 nursing class, a group of graduates whose skills and tenacity were immediately tested by the pandemic. With March marking the first anniversary of Michigan's first COVID-19 cases, members of that unique group of alumni reflect on their journey from students to essential workers fighting on healthcare's frontlines. 
"When you go to LMC, there is an absolute desire to see success in the nursing students," LMC nursing graduate and LMC's 2020 Spirit of Nursing award recipient Stephanie Schmidt said. "It is an insanely difficult program. It requires a lot of sacrifice and dedication, but it is absolutely to prepare you for who you can be as a nurse. This program is so driven to see your success they push you hard because they know the job you are going into is hard. I love that aspect of the program – not at the time, of course, but I appreciate it now." 
In June, Schmidt was hired at Spectrum Health Lakeland and is a nurse in the Lakeland Acute Nursing Academy (LANA) program, spending three-month stints working in departments such as the emergency room or cardiac floor before rotating to another three-month assignment in the hospital. 
Before she started her new job, the single mother of four, received a call from her parents concerned about the dangers of COVID-19. 
"They said, 'Why don't you wait a little bit and we can come out and take care of you guys?'" Schmidt said. "It was so new, and all you heard were these horrible reports. People thought if you get COVID-19, you're going to die. That's it. I had to tap out of the media. You do what you prepared to do. You say a little prayer, you wash your hands, you wear your PPE, and you hope that that's enough." 
The uncertainty surrounding COVID-19 in those first few months permeated throughout the healthcare industry and beyond. 
"The hard part being in healthcare at the beginning was the fear of the unknown," LMC 2020 nursing grad Whitney Ostyn said. "COVID patients couldn't have visitors. They didn't know if they were going to die from this. As nurses, we were there for them; we offered them some comfort. I remember a lot of people told me they wouldn't want to be a nurse right now, but for me, it's been the perfect time to be a nurse because we are so needed." 
Ostyn, who, like friend and classmate Schmidt, also works as a LANA nurse in St. Joseph, said the hospital's rigorous protocols helped ease the fear of potentially passing COVID-19 onto her husband and two small children. 
"We have to have our mask on even before we come into work in the parking garage," she said. "We wash our hands. We take a survey every day, making sure we don't have symptoms, and check our temperatures. We keep ourselves safe by putting on proper PPE. We have protocols on how we put on PPE and how to take it off.  And as soon as I come home from work, I throw my clothes in the washer and take a shower right away." 
The surge in COVID-19 cases in Berrien County last November put even more strain on local healthcare workers. Numbers doubled since May and June. Two of the hospital's four main floors were dedicated to COVID-19 related cases. Nurses were asked to work overtime and extra shifts became the norm. 
"We were doing our best just to get cameras in the room so families could Facetime their loved ones, but it isn't the same as being there," Barner said. "I think that's a silent thing we were all dealing with – that these people were alone." 
To combat that stress, nurses lean on each other. Barner, who works overnight at the hospital, said she and her colleagues often go out for breakfast after stressful shifts. 
"It's nice to feel human and just disconnect from the hospital on such a serious level," she said. "That is the best way to handle the insanity." 
"It is that support and that encouragement that gets you through it," Schmidt added. "With all the nurses I have worked with, there is just this respect and understanding that they have, that we have with each other. This is a tough time, and everyone is coming together on how to best take care of our patients and how we are going to keep everybody sane in the process." 
According to the state of Michigan, as of Feb. 22, there have been 11,340 cases of COVID-19 and 237 deaths in Berrien County, 4,945 cases, and 95 deaths in Van Buren County, and 3,934 cases and 63 deaths in Cass County since the start of the pandemic. 
The numbers of reported COVID-19 cases have been on the decline locally since their November peak. There is some optimism that the trend could continue with the rollout of both the ​​​​Pfizer-BioNTech COVID-19 vaccine and Moderna COVID-19 vaccine. 
"I think we are all excited about the vaccine," Barner said. "It feels like there's hope on the horizon. We are happy the numbers seem to be dwindling; however, we all seem to think that this will not go away permanently. Hopefully, it just becomes a lot more manageable." 
Barner and her fellow 2020 classmates know, however, that could always change. 
"The biggest thing I have learned in nursing – from my last year at LMC to now – is how important it is to be able to adapt," she said. "You never know what you are going to walk into. It is very important to be comfortable with your skillset and be ready for anything they throw at you." 
"Nurses have to acclimate quickly and adjust to circumstances without feeling too bothered," Schmidt added. "Hitting the pandemic and then being thrown right into work completely prepared me that you had to just adjust and roll with it." 
For these nurses and others just like them, they wouldn't have it any other way. 
"How much did I learn this year? I learned so, so much," Ostyn said. "This is exactly what I signed up for. A couple of weeks ago, I worked eight of nine days, and I wasn't even mad about it because we are so needed. I feel like it is what I was born to do." 
"People who go into healthcare have a desire to want to help other people," Schmidt said. "I want to help, not because it's easy and not because it's convenient, because it's neither of those things, but because I genuinely want something better for somebody else. I didn't decide to be a nurse because it's easy. I decided to become a nurse to take care of people. It doesn't matter how difficult it gets. It is what you are committed to, and so you stick with it." 
In the end, that mission of helping people always outweighs the long hours, extra shifts, and physical and mental exhaustion that comes with the job, a job these nurses expect to be doing for a long, long time. 
"There are some patients where I could tell you their entire life story," Barner said. "These are people you connect with, and at the end of the day, you get to go home knowing that they are still alive because of you. Celebrating those victories with your patients is very rewarding. It makes every minute, every hour I spent studying at LMC worth it. I wouldn't trade it for anything."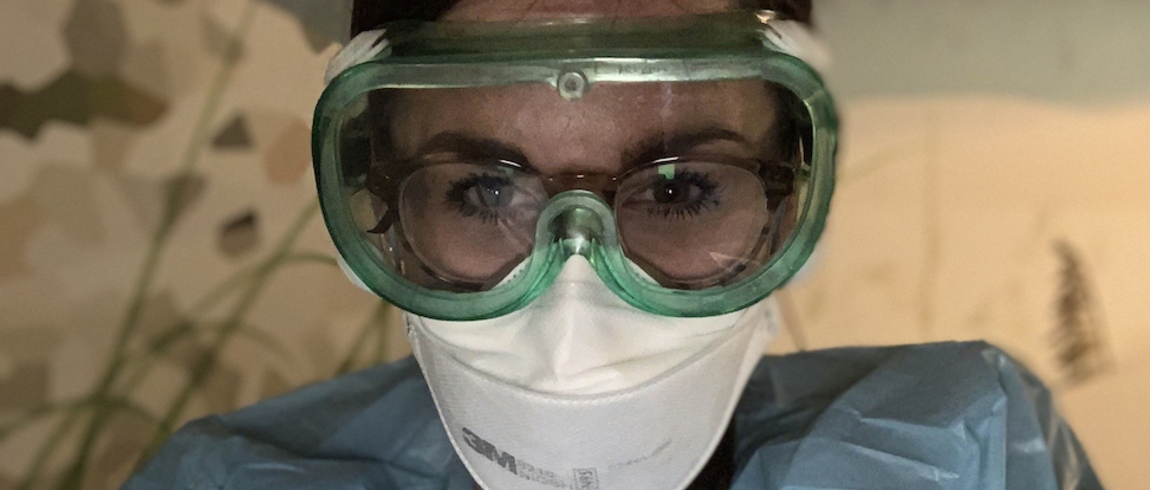 Media Contact