For Love and Chocolate: New certificate offers culinary students a sweet opportunity to learn
November 1, 2022
The connection between love and chocolate is undeniable. The two seem forever intertwined, from heart-shaped Valentine's Day boxes to scientific studies linking chocolate with increased levels of desire.
Perhaps then it was inevitable that Lake Michigan College Chef Luis Amado, whose surname means love in Spanish, became a master chocolatier.
"I actually wanted to be an architect," Luis said. "I love to create and build things with my hands, but chocolate is my true passion. Once I started making chocolate, I knew I had found my purpose."
Luis, who oversees the Culinary Management program at LMC, can further share that passion with his students by adding a new Culinary and Confections Certificate at LMC.
The one-year program is designed for culinary students interested in developing more-advanced pastry skills and professionals seeking to expand their knowledge of current trends and emerging technologies in the field. Students will explore entrepreneurship opportunities and study recipes and product development.
"I don't know any other college offering this," Luis said. "There are other programs that teach baking and pastries, but we offer something different by focusing on chocolate and confections. I have always dreamed of offering this in a community college setting. It's going to give students more time and more one-on-one experience."
Students must complete 16 semester hours, including classes outlining the chocolate industry, chocolate shop operations, fundamentals of baking, chocolate, and confections, and advanced pastry. Students already pursuing a Culinary Management Associate in Applied Science can add the certificate with just three additional classes.
"I teach a little bit of chocolate as part of the Culinary Management program, but that just touches the surface," Luis said. "I want to teach them how to create chocolate in the most artisanal way working with the best ingredients in the world. We have big plans, a big vision for this program."
A native of Guadalajara, Mexico, Luis began his career operating a series of churro carts at age 16. He moved to Michigan to study culinary arts and then to Belgium to develop his knowledge of classical European pastry and chocolate. A Certified Executive Pastry Chef by the American Culinary Federation, Luis has worked in various fine dining establishments. In addition to his role at LMC, he owns the Luis Amado Chocolate Academy in Stevensville, offering personalized and small-group chocolate classes to professionals from around the world. He has created a line of professional chocolate molds and has more than 22  gold medals and six best-of-show awards from highly recognized competitions, including the 1996 Culinary Olympics in Berlin, the 2000 National Dessert Competition, and the 2017 AUI Chocolate Cup in Washington, DC.
"When you think of cooking, I think a lot of people think of what they see on T.V.," LMC culinary student Andrew Brown said. "You are on a line, taking orders, working at your station. Sure, that's part of it, but I also discovered it's not as linear. There are so many different avenues you can explore. To see Chef's success with chocolate and what he has done with it is very eye-opening and inspiring."
Andrew, a former machinist from St. Joseph, decided to pursue culinary arts at LMC as part of the Futures for Frontliners program. He works as a line cook at The Brick House in Benton Harbor and plans to add the Chocolate and Confections Certificate to his pursuit of a Culinary Management Associate.
"I have already learned so much from Chef," Andrew said. "He pushes us to do our best. That goes beyond cooking. He also teaches us the way of the kitchen, how to conduct ourselves, and how to be successful. It's fantastic to learn and explore with him."
Innovation is at the center of Luis' creations. He's known for playing with textures and the occasional unexpected ingredient.
"It is important to have a surprise factor and to use natural ingredients to color my chocolate," he said. "For example, I use a lot of spices. It has to look good, but it also has to taste good. Every piece, it's important to innovate."
Luis hopes to instill that same creative spirit with this new certificate opportunity for his students.
"They have a chance to express themselves because, at the end of the day, this is art," he said. "What they do is art. It's a great way for them to see what they have inside of them. They just need someone to believe in them. I try to remember every day that I am here because someone believed in me. It is important to give that back."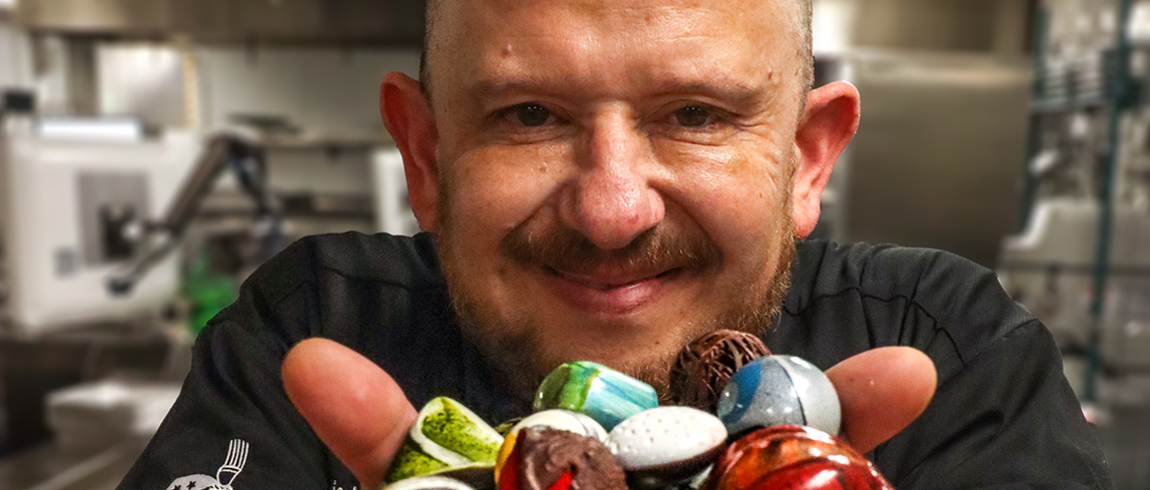 Media Contact
Marketing & Communications Specialist