New Registered Behavior Technician Certificate designed to fill community need
November 1, 2022
When Katy King signed up for the new Intro to Behavior Analysis class at Lake Michigan College, she had no idea it would change her career path.
"Like many people, I knew I wanted to get a psychology degree, but I wasn't sure what I wanted to do with it yet," she said. "Then I took the behavioral analysis class and loved it. After that class, I was completely sold on behavioral services."
Katy is one of the first students to complete the Registered Behavior Technician Certificate at Lake Michigan College. The new one-year certificate program, offered for the first time during the 2021-2022 academic year, provides classroom and hands-on training for students interested in a career in behavior analysis. Students who complete the program and pass the Registered Behavior Technician (RBT) exam receive a nationally recognized credential from the Behavior Analyst Certification Board (BACB).
"Most students who get their RBT certificate work with kids with autism or other developmental disabilities," said Dr. Mya Hernandez, a full-time faculty member in LMC's Psychology Department. "They are a direct care provider offering one-on-one services and small-group teaching. A lot of kids with autism have language delays, so they teach pre-verbalization, working with reading and early math as well. They also teach daily living skills such as dressing, cooking, and doing laundry or more advanced skills such as job training."
LMC's RBT certificate directly responds to staffing shortages at regional autism services providers. LMC has partnered with the Logan Autism Learning Center in Benton Harbor to provide students with hands-on practicum experience and training in the field as part of the program.
"The Logan Center had a waitlist of clients in need of services, and we wanted to help," said Dr. Amy Scrima, a full-time faculty member in LMC's Psychology Department and Chair of Social Sciences, Humanities & Education. "This program is meeting a community need, but it's also creating more opportunities for our students to improve their skills by getting hands-on experience."
Students must complete 16 semester hours, including pre-practicum and supervision courses as well as a practicum at Logan Center.
"I started my practicum in January at the Logan Center where I observed and shadowed RBTs working with clients," Katy said. "Then I got to jump in and practice the things I had just been learning about. After that, I knew that this was what I wanted to do, and immediately after graduation, I started working at the Logan Center."
At Logan, Katy works with four or five clients a week, ages 4-12.
"We deliver services through discreet trials, collecting data all day," she said. "We may start by asking, 'What's your name?' And when they answer, we give a lot of positive reinforcement."
"For many of these kids, language is one of the first skills they are working on," Amy added. "It's the ability to communicate basic needs, basic emotions."
In addition to autism centers, RBTs work in hospitals, nursing homes, schools, or one-on-one in clients' homes. Many RBTs continue their education, earning bachelor's and master's degrees in a related field.
"Whether students do this as a standalone or as the first step in their journey, it's a win-win," Amy said. "If they go on to grad school, there is no doubt that having these experiences early on will be helpful. No matter what area of psychology you go into, working with people on the autism spectrum is an excellent start for understanding behavior analysis, which is critical for any area of psychology."
Katy plans to complete a bachelor's degree in behavior analysis someday but said her work as an RBT has only helped solidify her career path.
"It's so rewarding to know you are making a difference in these people's lives," she said. "There could be a client, and they don't know how to ask you for something, and two weeks later, they are holding up a bag of chips and saying 'Help, please.' Some clients don't want to talk or say hello; the next time you see them, they are waving at you or saying your name. It's amazing. It's the most rewarding job I have ever had or could ever wish to have."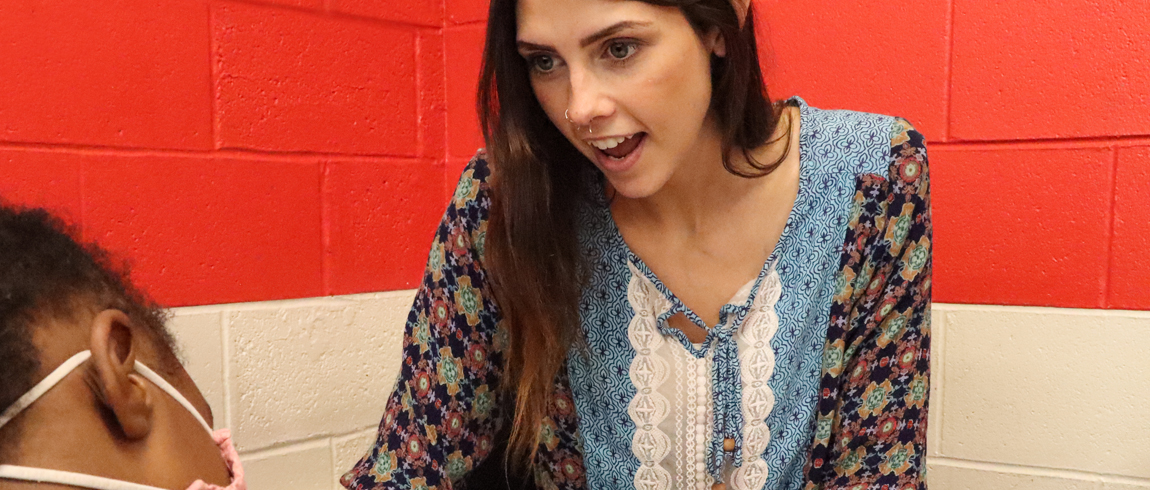 Media Contact
Marketing & Communications Specialist