LMC Alumni Association honors Barbara Peeples, Kim Bicard, Chokwe Pitchford as 2023 award recipients
November 16, 2023
The Lake Michigan College Alumni Association Board of Directors honored the recipients of its 2023 Alumni Achievement Awards on Sunday, Nov. 12, at Lake Michigan College's Mendel Center on the Benton Harbor Campus. 
Barbara Peeples, '61, received the newly christened Gladys Peeples-Burks Alumni Service Award, named in honor of her sister. Kim Vincent Bicard, '07, received the Clarence Beckwith Distinguished Alumni Award, and Chokwe Pitchford, '21, received the Alumni Achievement Award. 
"We know our alumni make a difference every day, and we want to share their stories," said Doug Schaffer, LMC's Vice President, Advancement & Community Impact & LMC Foundation Executive Director. "The Lake Michigan College Alumni Awards program allows us to do just that by recognizing alumni who have distinguished themselves in their career, service to their community, and Lake Michigan College."  
Sunday's event was particularly special for Peeples, who received the inaugural award named in honor of her older sister. Dr. Gladys Peeples-Burks was a tireless community advocate and member of the first graduating class of Lake Michigan College, who died on Feb. 7 at age 94. 
"It just overwhelms me," Barbara Peeples said. "So many people thought so much of Gladys. She touched so many people. I am so proud of her and everything she accomplished. Having this award named after her means a lot to our family."  
Learn more about the award recipients below: 
Barbara Peeples 
Gladys Peeples-Burks Alumni Service Award: This award is given to alumni who have offered significant personal or professional contributions to LMC or the community. 
Barbara Peeples, a Benton Harbor native and Stevensville resident, graduated from Benton Harbor High School in 1958, earned an associate degree from Lake Michigan College in 1961, and went to Western Michigan University, earning her bachelor's degree in 1963 and her master's degree in education in 1969.  
She taught in the Benton Harbor Area Schools for 40 years, spending 12 years at Morton Elementary School and the rest of her career at the Creative Arts Gifted and Talented Academy. Barbara volunteered at the school long after she retired in 2003, serving as an advisor for the student council and the science fair.   
She was a charter member of the Miss and Missus Big Sister Club at the YWCA and the Michigan Association of Black Educators. She volunteered with Y-Teens, Parents as Partners, Girl Scouts of America, Helping One Student to Succeed, Delta Kappa Gamma, the American Association of University Women, League of Women Voters, and the Benton Harbor branch of the NAACP. Barbara served on the boards of the Twin Cities Arts Council, Krasl Arts Center, and the Bell and White Scholarship Foundation.   
She is currently on the boards of the Center[ed] on Wellness Counseling Center, Calling All Colors, Race Relations Council of Southwest Michigan, and the LMC Alumni Association. She volunteers at the Krasl and Berrien Community Foundation and is a member of Charms, Inc., the Alumnae Chapter of Delta Sigma Theta, and Second Baptist Church. 
Kim Vincent Bicard 
Clarence Beckwith Distinguished Service Award: Named in honor of the first President of Lake Michigan College, this award is given to LMC alumni who have accomplished significant success in their personal or professional endeavors.   
Kim Bicard made a promise to herself to go to college. She fulfilled that promise, graduating with an associate degree in business from Lake Michigan College in 2007.  
Kim grew up in Streamwood, Illinois, and attended Elgin High School when her family moved to Southwest Michigan during her junior year. She graduated from Niles High School in 1979, delaying college to acclimate to Southwest Michigan. She started as a teller at 1st Source Bank in 1981 and made a career there. She held several positions at 1st Source Bank throughout her career, from Lead Teller to Manager to Vice President. She retired in 2022 as Vice President and Regional Sales Manager for Cass, Berrien, and Kalamazoo counties after 41 years of service.  
Along the way, she was responsible for training staff throughout the region, serving as a mentor and coach to those around her. Her passion for building people up translated well beyond her corporate mentees.  
Kim was co-chair of 1st Source Bank's THRIVE Series for Women's Leadership and on several advisory boards, including the Women's Business Center, Cornerstone Alliance, Region IV Area Agency on Aging, and the United Way of Southwest Michigan.  
Whether as President of the Rotary Club, working with Junior Achievement, or serving on the Niles Chamber's Economic Development Committee, her legacy is one of compassionate community collaboration.   
Chokwe Pitchford 
Alumni Achievement Award: This award is presented to recent alumni who attended LMC within the past 15 years, demonstrated significant achievement, and distinguished themselves in their career, education, or community.  
Chokwe Pitchford is a 2021 Lake Michigan College graduate who now serves as the Berrien County Commissioner for District 3 and is Executive Director for the nonprofits Berrien Connection and Berrien Forward.  
Born in New Orleans, he moved with his family to Benton Harbor in 2005 and is a 2017 Countryside Academy graduate. At LMC, Chokwe joined Start-to-Finish and the Financial Aid staff as a Work Study. He was among 300 students chosen for Organizing Corps 2020, which trains students to work on political campaign staffs. He was still an LMC student when he launched his first campaign, an unsuccessful run for the 79th District seat in Michigan's House of Representatives.  
Less than a year after earning his associate degree in political science from LMC, Chokwe was elected to the Berrien County Board of Commissioners, representing District 3, where he serves on the Personnel and Human Services Committee. He also sits on the Workforce Development and Economics Committee, the Artificial Intelligence Exploratory Committee, and the Economic Mobility Leadership Network for the National Association of Counties. 
Chokwe received the AFL-CIO's Transcending Leader Award and Detroit City Council's Spirit of Detroit Award. He's been named to Moody on the Market's "40 under 40" and serves on the boards of The Ghostlight Theater, Southwest Michigan Community Action Agency, and Michigan Community Corrections. He's co-chair of Berrien County's Allies and Leaders for Community and Police Trust. 
To be eligible, alumni must have graduated from LMC or its predecessor, Benton Harbor Junior College, or taken at least 30 semester hours. LMC first presented its Alumni Awards in 1986. Since then, more than 80 individuals have been honored.  
To nominate an individual for future LMC Alumni Awards or to view a list of previous winners, visit lakemichigancollege.edu/alumni-awards.  
For more information, email LMC Accounting Analyst Cindy Birk at birk@lakemichigancollege.edu or call 269-927-6579.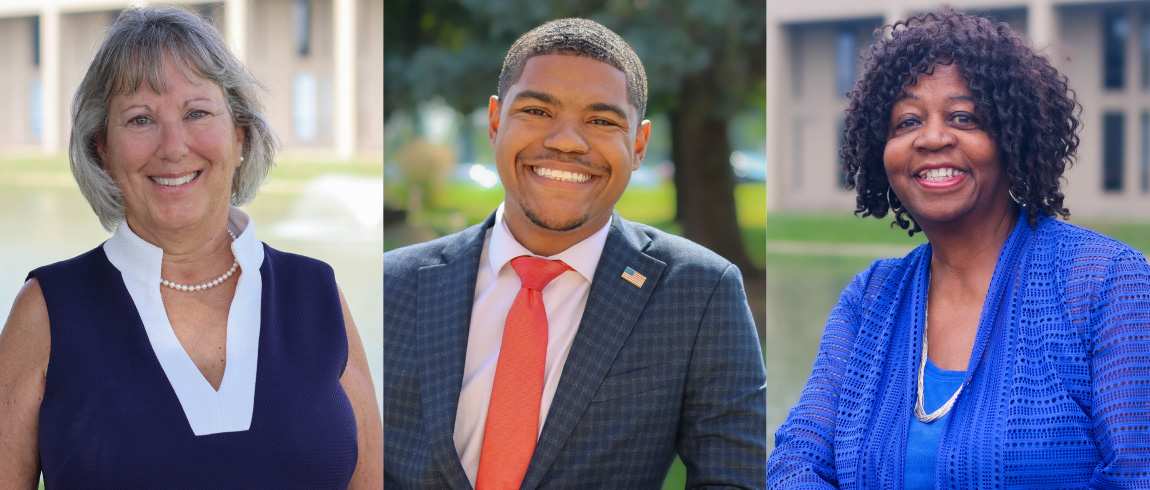 From left, Kim Vincent Bicard, Chokwe Pitchford, Barbara Peeples
Media Contact
Marketing & Communications Specialist