Betty Timmreck graduates from LMC at age 79
June 13, 2023
This article originally appeared in The Herald-Palladium on Thursday, May. 4. Used with permission.
At the Lake Michigan College commencement on May 7, Betty Timmreck will walk across the stage and earn her degree that has been 60 years in the making. 
Timmreck, 79, returned to the classroom virtually in 2020 and finished her associate's degree in general studies this spring. 
"If you have a dream, don't dream it, just do it, and don't let your age stop you from doing your dream," she said on Wednesday at her family's Eau Claire farmhouse. 
Two of her grandchildren are also graduating this year – one from St. Joseph High School and the other from Bethel University – and the family held a joint graduation party earlier this week. 
Timmreck began her studies in 1962 when LMC was known as the Benton Harbor Community College and Technical Institute. At the time, it was located on Britain Avenue in Benton Harbor. 
She was supposed to graduate in 1964, but several missing courses rendered her ineligible. With a wedding that fall, Timmreck said she forgot about college, and the Benton Harbor native, a self-described "city girl," focused instead on learning how to run a household and a farm. 
In the decades that followed, Timmreck packed fruit and handled bookkeeping on her family's Eau Claire farm, where they grow grapes, peaches, apples, and zucchini, hauling a playpen for her children as she worked. 
Those children grew up, finished high school, and earned college degrees. They then had their own children, who are now graduating from high school and college. Timmreck watched their progress and remembered her own unfinished degree. 
Reinvigorated by her grandchildren, she called the LMC Registrar, who was able to find her academic record and transfer the 48 credits she completed in the early 1960s. With 12 credits remaining, she enrolled first in a nutrition course. Timmreck, an accomplished baker, said this was a favorite. 
But challenges loomed. She needed to pass intermediate algebra, a class Timmreck said she dreaded. Before she could take that, she had to complete pre-algebra and algebra. Her professor and tutor for those courses walked her through understanding the material. 
"That was a very hard class, but especially the tutor, she worked with me. She was patient with me. She helped me unbelievably," Timmreck said. 
With every assignment completed, Timmreck said she felt encouraged. If she could handle that challenge, then the 79-year-old could face the next. Her two grandsons helped her understand the virtual format of her biology class, and a granddaughter showed her the ins and outs of Excel, a spreadsheet software. 
"The challenge kept me going," she said. 
A dream about to come true 
To take the same professor and tutor for intermediate algebra, Timmreck needed to drive to campus in person. Her classmates were the same age as her grandkids, she said, laughing. 
"I felt like I belonged, even though the age was such a huge difference," Timmreck said. 
The in-person experience brought its own encouragement. Every day, as she walked through campus buildings, Timmreck would look at promotional pictures of graduates holding diplomas and wearing tassels and think to herself, that's me. 
Still, her resolve began to wear thin, and for the last two weeks of the intermediate algebra course, her husband, Dave, drove her to class. 
"My husband knew I was really getting there. Bless his heart. He took me every time," she said. 
The support of Timmreck's family and of the LMC faculty and staff convinced Timmreck to continue pursuing her degree, despite frustrations. 
Timmreck's last course was one credit, and it focused on preparing students to enter the workforce. Recognizing Timmreck's unique circumstances, the professor helped tailor the content for her experience. Timmreck finished the class with a presentation. 
"Could I go back to college? At my age and accomplish my dream?" Timmreck wrote. "Well, that's just what happened. I became a student at LMC. I was accepted and walked down the LMC halls with my dream that is about to come true. Class of 2023. Go, Red Hawks."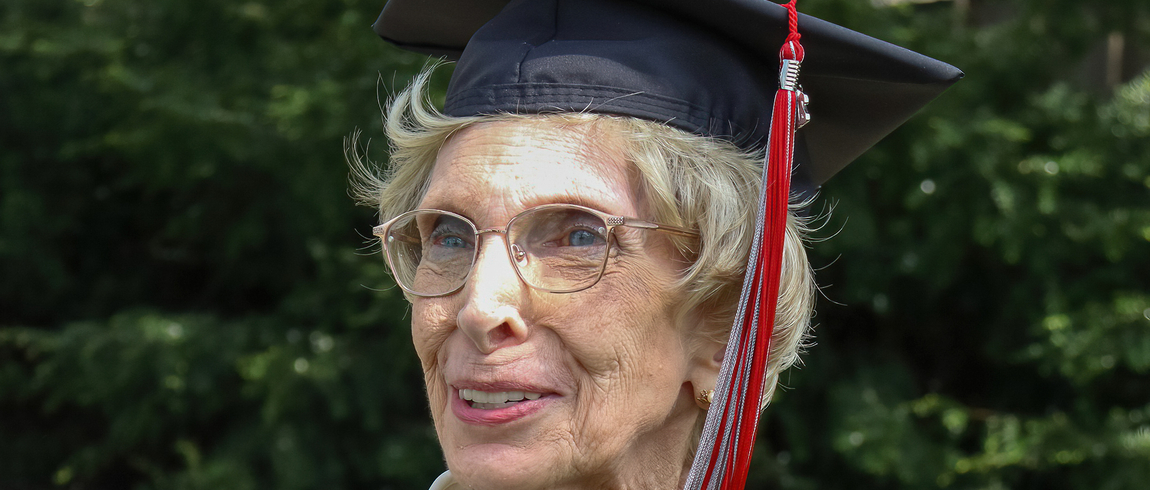 Media Contact
Marketing & Communications Specialist