LMC uncorks Welch Center: New home for Wine & Viticulture Technology program opens its doors on Aug. 27
August 20, 2019
A case of wine changed Michael Moyer's life.
The associate winemaker and enologist at Figgins Family Wine Estates in Walla, Walla, Wash., also had been the first winemaking instructor at Walla Walla Community College. So, when Moyer met a visiting contingent from Lake Michigan College interested in starting a wine program of their own, his interest was piqued.
"Eventually I asked them to send me a case of wine," Moyer said. "I don't know what I was expecting. Maybe some fruit wines and cold climate wines, but I know I wasn't expecting the wide variety of dry reds that they sent. They were all excellent. I thought, 'Wow if they are making wine like that over there then the sky's the limit.'"
In January 2015, when Moyer joined LMC to helm Lake Michigan Vintners, the first commercial teaching winery in the Midwest, as director of Wine & Viticulture Technology, that potential came with a promise. After beginning in a temporary two-room laboratory in The Mendel Center, the program would one day move into a dedicated facility. LMC broke ground in May 2018 and on Aug. 27 will open the Welch Center, the new $7 million, 14,000-square-foot teaching winery on its Benton Harbor campus.
The building is named in honor of Mike and Lisa Welch, longtime supporters of LMC. It is designed to provide Wine & Viticulture Technology students with a state-of-the-art environment to gain hands-on education in the art, science, and business of winemaking.
"The new center will help teach students how an efficient winery should operate," Moyer said. "This is unique for the area, but it's also going to be unique to the country. I've seen many facilities at various colleges in the U.S., and for an academic program, this winemaking facility is unrivaled."
The Welch Center features a new wine press, large tank, and bottling rooms, tea laboratory, and temperature and humidity-controlled barrel and case good storage. There are two classrooms, three offices, a workroom, and an open commons area for wine tasting, community education classes, and special events. 
Details such as the fully covered crush pad and elevated walkways for easy tank access are what has Moyer the most excited.
"We wanted to show students what is possible in a winery space," Moyer said. "Winemaking is time and labor-intensive, and you don't want space and design limitations to bog you down even more. We've designed the winery to be ergonomic and enhance the flow of production, from fruit reception through crush operations, fermentation, and bottling."
LMC established the Wine & Viticulture Technology program nearly five years ago to meet the demands of Southwest Michigan's thriving wine industry. According to Michigan's Craft Beverage Council, Michigan's wine production has increased 47 percent over those past five years. There are now more than 160 wineries bottling more than 3 million gallons of wine annually. 
The majority of that production comes from locally-grown grapes. Michigan has 13,700 acres of vines, making it the sixth-largest grape producing state in the nation. The majority of the state's wine grapes are grown in Southwest Michigan where the proximity to Lake Michigan protects the vines against an early spring bud break and damage due to late spring frosts.
Joe Herman, owner of Karma Vista Vineyards in Coloma and Herman Farms in Bainbridge Township, served on the advisory committee that helped establish LMC's wine program. A sixth-generation fruit farmer, Herman's properties grow 10 varieties of wine grapes between the 90 acres at the Karma Vista site and 360 acres at Herman Farms. 
"As a wine region, we are in our infancy of what we can and cannot do," he said. "The Welch Center is going to be a great place not only for students but for the growers and wine community to get together, grow and expand, and exchange ideas. There's no telling how far we can go with this. The potential is just exciting."
Students in LMC's Wine & Viticulture Technology program study chemistry and plant biology, learn the essentials of site selection and vineyard establishment, quality-oriented vine training and trellising methods, and pest and disease management. In the teaching winery, students gain hands-on experience in all aspects of winemaking.  Finally, students gain essential customer service and hospitality experience working in local tasting rooms, including Lake Michigan Vintners tasting room in downtown Baroda. 
"They learn every aspect of the wine industry," Moyer said. "The students get to experience the winemaking process from the ground up, from the vineyard to the bottle and further into the tasting room. Lake Michigan Vintners manages the vineyard blocks we use to produce fruit. From these blocks students harvest the grapes, manage the fermentations, perform routine juice and wine analysis for quality control-- all done by the students as part of the process of making wine. Our students are getting recruited because they bring valuable skills to the table, and some of them are getting jobs even before they graduate."
Kristin Kohane, who is entering her final semester at LMC this fall, is an example of that.
"Because of my experience in the program I got a job with St. Julian Winery as their enologist two months ago," Kohane said. "I'm working every other day as I am finishing classes this summer, and then I will finish my final internship in the fall with them and will be full time after that."
Adam McBride, owner, and winemaker at Hickory Creek in Buchanan received initial wine education through Napa Valley Wine Academy and the Wine and Spirits Education Trust, but he was so impressed with LMC's program that he decided to become a student two months after buying the winery.
"At the wine academy we learned what to do and how to do it, but through the Lake Michigan College program we are also learning why you do it," McBride said. "The program at LMC is two or three levels deeper and a whole level of knowledge when it comes to winemaking and vineyard practices. I will learn something in class that morning and go back and put it into practice at Hickory Creek that afternoon."
As a student, McBride said he is excited to take classes in the new wine center, but as an owner of a local winery, there is even more anticipation for the Welch Center to open its doors.
"I'm certainly not the only one," he said. "There are a lot of wineries who are excited about the research that can be done that is specific to our region and our soil and our elevation. The center is also going to attract serious wine students. We hear a lot from UC-Davis and Cornell, but now to have world-class faculty and a world-class facility right in our backyard in Benton Harbor, I think it will make us all better winemakers."
For Moyer, that has been the goal since his first taste of Michigan wine. 
"It's a region that has a lot of potential. You can taste that in the wine," he said. "We're a relatively young, growing region, but we are all passionate about the potential for making great wines and being known as a world-class winemaking region. Those who have supported this project know it is a big deal for the area. Not only does it offer a world-class educational facility, but it helps to put Southwest Michigan on the map."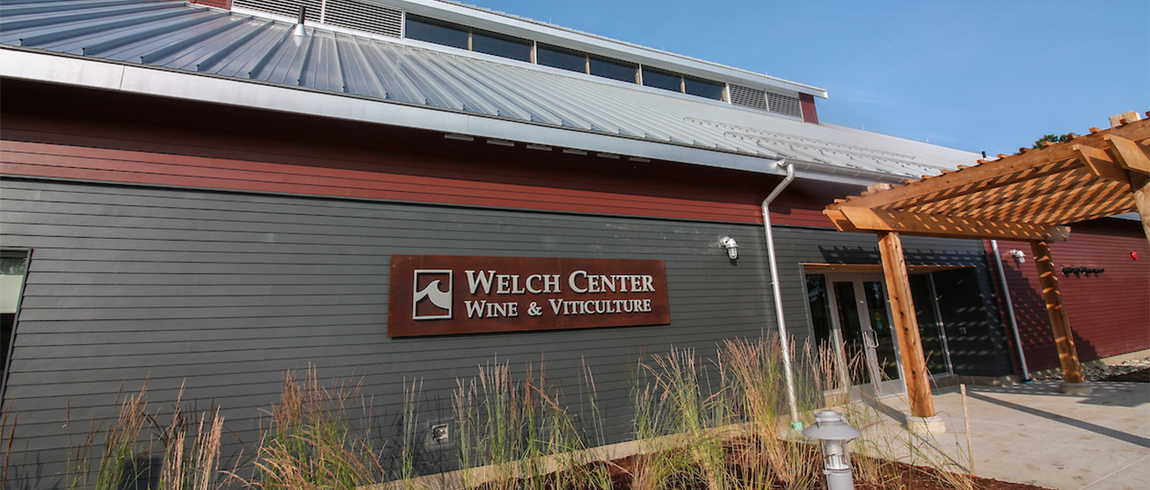 Media Contact