Lake Michigan Vintners moves tasting room into Welch Center for Wine & Viticulture 
February 28, 2020
Becca Sonday admits feeling some trepidation when Lake Michigan Vintners closed its Baroda tasting room in December to move into the new Welch Center on Lake Michigan College's Benton Harbor campus. 
"I was a bit anxious about moving because Baroda is a hub for area wineries," said Sonday, LMC's Wine & Viticulture Technology Program Assistant who manages Lake Michigan Vintners' tasting room. "But it didn't take us too long to realize how many other great wineries were close to the new location right off I-94 and how convenient that is for people. We are getting customers from Paw Paw to South Bend. Plus, we kept a lot of the same market because our wines are great, and, of course, because of our charming personalities." 
After two years in Baroda, Lake Michigan Vintners, the commercial teaching winery of LMC's Wine & Viticulture Technology program, officially opened its new tasting room on Jan. 11 in the Welch Center, 2774 E. Empire Ave. The move completes Lake Michigan Vintners' transition into the $7 million, 14,000-square-foot facility, which opened in August. The Welch Center now houses everything from tank and bottling rooms to classrooms where, through hands-on instruction, LMC's Wine & Viticulture students learn the process of winemaking and all that it entails. 
"One of the exciting things about the new tasting room is the big glass wall that offers a clear view into both the teaching winery and the barrel room," LMC Wine & Viticulture Technology Director Michael Moyer said. "And if patrons care to take a closer look, our students are available to give them a tour of the production space. So, our visitors have the opportunity to taste some great Michigan wines and also learn a bit about how they are made." 
Providing Welch Center tours to tasting room patrons, Sonday said, also really helps people connect to the program's mission. 
"It's really fun for us to give winery tours," she said. "It connects back to the fact that we are training students to become winemakers. It's something we are very proud to do, so as people drink our wine on a college campus, that message connects. In Baroda, some people made the connection, but here you have to make that connection. That's a cool gift to be able to give people." 
Located in the heart of the Welch Center, the tasting room, with its high ceilings, large windows, and barn-wood-inspired decor, also offers a more relaxed experience than Lake Michigan Vintners' previous tasting space. 
"We loved the Baroda space because it was quaint and cozy, but we are thrilled to be here because it communicates what we are doing, which is making excellent wine and training excellent winemakers," Sonday said. "It is a lot more open. There is so much more light, and there's a real natural feel to it. The tables were made from the old barn that was here specifically for this space." 
Like all other aspects of the program, gaining experience working in a tasting room is part of the Wine & Viticulture curriculum. Students must put in at least six hours per week for two semesters at a tasting room of their choice.  Up to five students work in the Lake Michigan Vintners tasting room each semester. Jasmine Parkinson, a second-semester student in the wine program, is one of them. 
"It's very open, and I feel like you get a lot of one-on-one time with customers here," Parkinson said. "Having customers ask specific questions has only encouraged me to learn more and more about our wines. The experience (of working in the tasting room) has even helped me learn about what wines I like myself. It carries over from the tasting room and the tank room and so on. It's just such a well-rounded experience." 
The tasting room, which currently has 10 different wines available, is open to the public from 12-6 p.m. Fridays and Saturdays, and by appointment. Hours will be extended in the Spring and Summer months, although they have not yet been announced. Wine and food pairings, community education courses, and live music on the new patio – which officially opens May 2 – also are among tasting room events being planned. 
"I mean, come on, we have a patio now," Sonday said. "What is more lovely than early summer in Michigan being outside sipping wine?"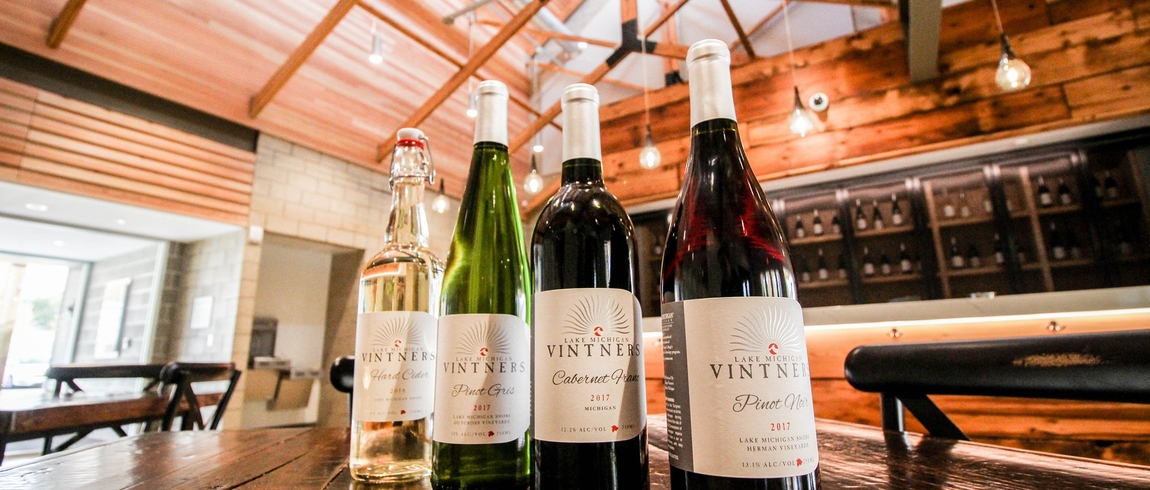 Media Contact