Fab Lab gets creative, Health Sciences donates supplies to fill local PPE need
May 26, 2020
The plan came together over a weekend. News spread across social media about the shortage of personal protective equipment (PPE) for healthcare workers during the COVID-19 pandemic. That's when Chad Dee, director of Lake Michigan College's Hanson Technology Center, saw the question on the Fab Lab Facebook page.
"It was a Friday, and a couple of people asked if there was any interest in us making some PPE," Dee said. "The next day, both of my techs and I went into the lab and were trying to figure out what materials we had, what we could get, and what people needed."
Since that March weekend, Dee, his technicians Neil Boreczky and Sam Cray, along with staff and community volunteers working from home, have produced and given away nearly 1,900 face shields and more than 1,000 ear savers for mask wearers. Thanks to a new shipment of elastic, they are now ramping up production on cloth face masks with 50 given away to date.
"We saw other people doing it and knew that we could help," Dee said. "In true Fab Lab mode, we started with one thing, and it just continued and compounded. You try it out and see if the prototype works and then try out different materials to see what works and what doesn't and do the best you can with what you have."
The ongoing project is part of a college-wide effort to help workers in health care and other industries in the community who must be out in the field to do their jobs. In addition to the Fab Lab project, LMC nursing, sonography, radiologic technology, dental assisting, medical assisting, pharmacy tech, phlebotomy tech, CNA and natural sciences programs have donated 155 isolation gowns, 110 boxes of gloves, and 13 boxes of masks to Spectrum Health Lakeland and Bronson Methodist Hospital. 
"There was this movement that was starting to take place donating PPE," LMC South Haven Campus Director Jeremy Burleson said. "Using our resources, in South Haven, specifically where we have the phlebotomy and CNA programs, we were able to access whatever extra supplies we could and get it over to the folks at Bronson. They were extremely excited to see the donations that we had. They didn't even think to ask to utilize the college's supplies and were just shocked by the whole thing."
The process was a little more complicated for Dee and his team, who started by addressing both the community need and the materials LMC could secure. They landed on face shields, beginning with the acrylic visor that supports the shield itself.
"There were all kinds of files being shared, which is what the Fab Lab is all about, so we started there and tested a couple of prototypes on the 3-D printer," Dee said. "The whole process for the visor took 75 minutes on the 3-D printer. About halfway through that first six-hour shift, one of my techs asked, what if we laser cut them? We had a couple of pieces of acrylic and tried it. We figured out we could do them in less than two minutes."
To produce the mask portion of the face shields, Dee and his team use either 16- or 20-gauge clear marine vinyl. After nine prototypes, the Fab Lab ramped up production.
"We put a call out for materials, and in just the first day we had six people say, what do you need, we will order it," Dee said. "We started getting materials donated or wanting to help in some way. I had one person donate nine sheets of acrylic. I have four people who have 3D printers at home who volunteered to make some for us."
Dee said the first request for face shields came from all 21 law enforcement agencies in Berrien County. 
"Law enforcement was the first, but we've had senior citizens pick them up," Dee said. "We've had cancer patients. The Logan Center in South Bend and Lakeland took some. We've had a lot of requests from long-term care facilities. Now, we are getting people who run hair salons, and some retail ask about them."
While the Fab Lab continues to make face shields, they are also making cloth face masks. Lilah Cray, the Fab Lab's work-study, volunteered to sew them at home.
"We have given away about 50 or so and only because we didn't have enough elastic," Dee said. "Now, we have 300 yards of elastic to mess with."
To accompany the masks, the Fab Lab is also making ear savers. The soft, bendable plastic is used to connect face masks, so elastic bands do not need to go around the wearer's ears. The Fab Lab has donated 100 ear savers to St. Joseph's Region 4 Area Agency On Aging alone.
"You can put in the back of your neck, and it alleviates the stress on your ears," Dee said. "These things take hardly anytime at all to laser cut. We have over 1,000 of them right now."
LMC has set up a COVID-19 Relief Fund to accept monetary donations to purchase more materials for the Fab Lab project through the LMC Foundation's Donate page and choosing "COVID Relief Fund."
Dee said there is currently $4,000 in the fund, and that he still gets the occasional material donation as well.
"Was I surprised by the response? No. Overwhelmed by it? Yes," Dee said. "It's humbling. Whenever we set our minds to do something, we do it at LMC. But we can only do that because the community always seems to be there to support us."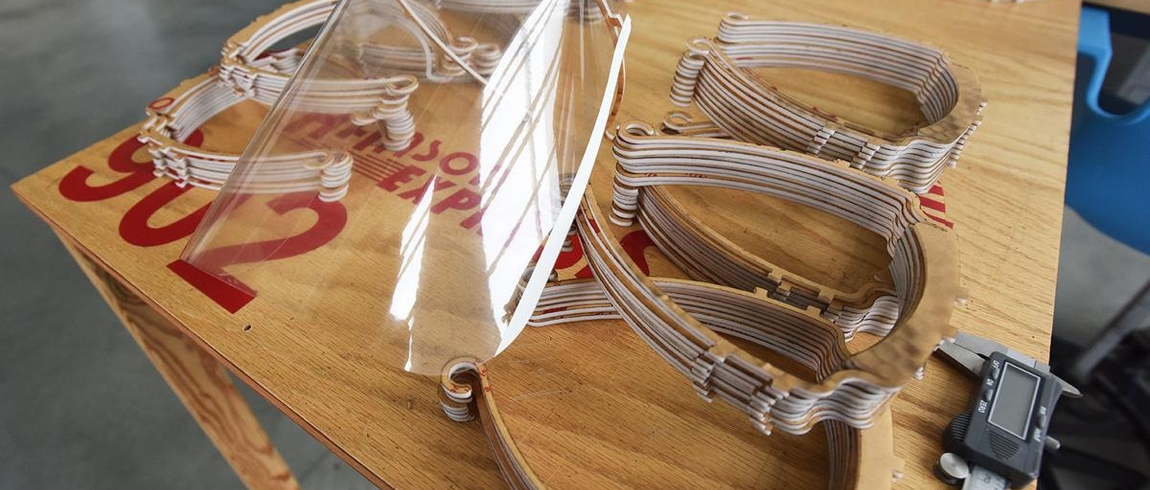 Media Contact