LMC responds, adapts to COVID-19 pandemic
May 26, 2020
The news came on a Tuesday. On March 10, the first case of the new coronavirus (COVID-19) was reported in Michigan. The next day, the World Health Organization declared the virus to be a global pandemic. And that Thursday, Lake Michigan College announced that all campuses would close, and all face-to-face, in-person classes would be canceled for a week before resuming remotely online. 
While that March 12 decision seemed swift, the College's leadership had been planning daily for a response with one contingency plan after another in preparation for what lay ahead. 
"When we saw that the virus was hitting the coasts, we knew it was just a matter of time before we had our first case in the state," Lake Michigan College President Dr. Trevor A. Kubatzke said. "We met for hours coming up with plans that had to change by the next day because we had new information come in. I think everyone understands that this is unprecedented." 
It has been more than two months since LMC made the shift to remote learning, starting online classes on March 23, the same day Michigan Gov. Gretchen Whitmer issued the first of many stay-at-home orders.  
"It's been remarkable. Because of the prep work we did, when the stay-at-home order came, we were prepared down to every employee," Kubatzke said. "Hands down, faculty, staff, facilities workers, everyone at the College is doing what they can to serve each other, our students and the community, and that's why we are here." 
In that time, LMC employees rallied around their students by providing financial, technological and academic help to complete the spring semester. Now, the College is prepared for an all-remote learning summer session and planning several scenarios for the fall semester that allow for students to have flexibility about whether to attend classes in-person, remotely or a combination of the two.  
"First and foremost, the concern was for our students," Kubatzke said. "How do we transition them to remote learning? What's a reasonable period that not only gets our faculty ready for it but does the best we can for students?" 
Those questions needed answers, and the College had a week – from March 16-20 – to find them.  
In that time, faculty came to campus to adjust courses for an online environment, working with remote learning experts, LMC's IT staff, and incorporating technology such as Zoom to reach students the following week. Meanwhile, LMC staff were helping students adjust to their challenges, including a lack of computer access at home, and financial hardships because of lost income. 
"We knew we had to make sure all of our students had access to technology," Kubatzke said. "If they didn't have a computer, all they had to do was come to campus that week, and we issued them a college laptop. Several students took advantage of that. We've heard from many people who said it is helping them in their classes and helping their children in K-12 keep up with their learning. We are immensely proud of that." 
LMC also has addressed students' financial struggles through existing programs such as scholarships and the Foundation's Student Success Fund, as well as new opportunities such as the federally funded CARES Grant, which explicitly addresses added expenses due to COVID-19. 
"We've always had our Student Success Fund to help students get through tough times, whether it is to pay rent or a car repair," Kubatzke said. "That is funded through the Winner's Circle auction, and we've been doing that for years. We were also one of the first in the state to get in front of the CARES Act for students. We were the first in the area to be awarded that money from the federal government, and students can apply to access that money." 
The College is now looking ahead. Registration is open for LMC's adjusted summer and fall semesters. Originally summer classes were scheduled to begin on May 11. Now they start on Monday, June 8, and end on Thursday, Aug. 20. For the first time, all summer classes will be delivered through remote learning.   
"This summer is going to be online, but we are already planning multiple ways we can do fall depending on what the environment is at the time," Kubatzke said. "For students who are home because their four-year institution had to close, if your institution is going to be online this summer and fall, look at LMC. If you are going to be online, why not do it local where you have support and resources here for you should you need them?" 
For many academic programs, the College is implementing Flexible Learning Environment (FLE) courses where students can choose to interact with their instructor and classmates by a webcam during regularly scheduled class sessions or watch recorded class sessions online. Students also can choose remote instruction with all class sessions held remotely by a webcam on scheduled days and times, online instruction with no scheduled class sessions, or a hybrid/remote choice where a sizable part of the instruction will be delivered online with some required remote class sessions by a webcam on scheduled days and times. 
Safety protocols will be followed for courses requiring face-to-face, hands-on learning. On-campus class sessions will be scheduled in small groups using safety practices required by the state and the Center for Disease Control. Programs and disciplines requiring at least some hands-on learning include Advanced Manufacturing, Culinary, Graphic Design, Health Sciences, Natural Sciences, Visual & Performing Arts, and Wine & Viticulture Technology. 
"Our fall schedule of classes will be as flexible as possible to meet the needs of our students and also adaptable to allow us to transition entirely to distance delivery if the need arises," said Dr. Leslie Kellogg, Provost and Vice President of Academic Affairs. 
One of the hopes of this approach, Kellogg added, is that it may especially help non-traditional students who are juggling family and work responsibilities. 
"The luxury about LMC is it doesn't matter if you have a high school diploma or a master's degree," Kubatzke said. "We have people at every level of education getting the skill sets and the tools and the credentials for the job they are looking for right here." 
Throughout the shutdown, LMC has continued to work with local leaders and health organizations to aid not only its employees and students but the entire community. That includes everything from donations of LMC's personal protective equipment (PPE) to the potential use of Beckwith Hall. 
"We could have done what other schools did and just close the doors and wait, but up and down the organization, we knew that's not who we are," Kubatzke said. "We are here for all aspects of our community, whether you are a student, whether you are a parent, whether you only come to the Mendel Center. So, when the health department called and said, 'If we need extra beds for quarantine, can we use your residence hall?' we said, 'Of course.' Thank God they haven't had to use it, but that's just who this institution is. That connection is vital. It is part of our community's culture and fabric of life." 
When LMC does eventually open its campuses, Kubatzke said that protocols concerning social distancing and safety would be in place to protect students, employees, and the community. Meanwhile, he urged both current and prospective students to continue their educational journey despite the challenges and uncertainty. 
"We are trying to keep students active and continually on their path for education," Kubatzke said. "We are going to be here with all the resources we can bring to bear. … Education is not only a way to advance yourself, but jobs that require a certificate or a skill set or a degree are a little more recession-proof than those that don't. That credential is going to help you in the long run." 
The College continues to offer most of its services to current and prospective students remotely, including admission, advising, and financial aid services. 
"We are not going anywhere," Kubatzke said. "We are going to provide you what you need. Just know that, even if it is online, and you must meet with an advisor remotely, we are still here for you. We are still working eight hours a day or more for you to call and for us to help you. We may be sheltered, but we are still working hard for you." 
For More Information 
CARES Grant Application: If you are a current student with added expenses such as course materials and technology for remote learning as well as food, housing, childcare, healthcare, and more, you may apply for the new CARES Grant. Apply online. 
Special Circumstances Review: If you or your family face a loss of income related to COVID-19, you may qualify. Dependent Students can apply here. Independent Students can apply here. 
Scholarships: Scholarship money is also still available through LMC's Foundation. Learn more and apply on the scholarship webpage. 
For more information, visit the LMC COVID-19 response webpage at  www.lakemichigancollege.edu/covid19.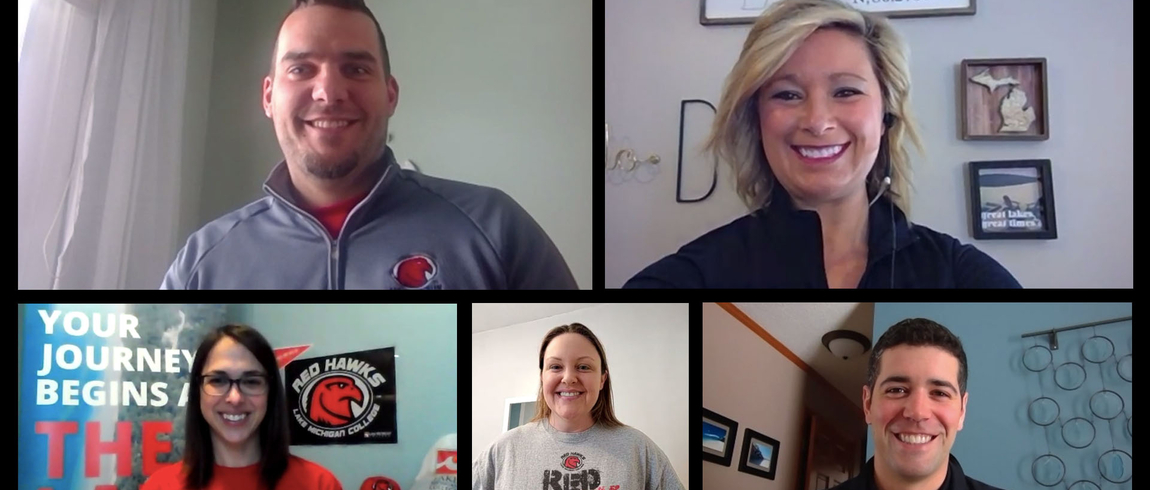 Media Contact