Renovated William Hessel Library awaits the return of LMC students, community
May 18, 2020
Diane Baker sits down in one of the study rooms on the second floor of the William Hessel Library and watches Lake Michigan College's resident swan land on the water outside of the floor-to-ceiling windows. 
"I think this is going to be a popular spot for students," said Baker, LMC's Reference Librarian. "We love the light and the airiness of the new space, but that view helps." 
After ten months of construction that saw a top-to-bottom overhaul, the library opened March 9. Four days later, it, along with the rest of the Benton Harbor campus, would close again, this time due to the COVID-19 pandemic. 
"During the short four days we were open, we did check out 45 items, mostly books," Baker said, adding that late fees are being waived during the closure.  
When the Benton Harbor campus does reopen to staff, faculty, students, and the community, Baker will be ready to show off the renovated space once again. The library is the cornerstone of a newly combined space that also will house LMC's new Writing Center and Teaching and Learning Center, which includes tutoring and testing assistance, as well as an open computer lab. While those additional spaces will be completed this summer, the overhaul of the library itself is palpable from new carpet, paint, and furniture to improved lighting and sound design. 
A wall of windows floods the two-story space with natural light. More than 20,000 books are housed on the upper level, while the lower level features comfortable study spaces, 24 new computer stations, moveable whiteboards, monitors, DVDs, and more. 
"It's pretty dramatic," Baker said. "I've been here since 1986, and this is our first renovation. We improved the electric grid to make it accessible for everyone's devices. And we aren't bookless. It's a traditional library with modern technology. It's a place to do research. It's a place to gather. It's a place to read. It's a place to hang out with your friends." 
While LMC and the community at large haven't been able to enjoy the new space yet, Baker is quick to point out that they have remained a valuable resource, particularly for students completing the spring semester online.  
"The library website provides our LMC users access to over 100 databases," Baker said. "It isn't Google. These online resources contain peer-reviewed articles and other content, and our users have 24/7 access. We also have eBooks and streaming videos that they can download as well." 
The primary focus of the renovation, however, was creating more collaborative spaces, updating electric and internet capabilities, and increasing the number of study spaces and conference rooms. There are 18 enclosed study rooms throughout the library, the majority of which are on the upper level, as well as a dedicated college conference room on the lower level.  
"We only had three study rooms before, now we have 18," Baker said. "We have small rooms for individual study. There are rooms for four, six, and more. All around the perimeter, there are chairs and tables. We have so many study spaces now. When we do come back, I think students will find a spot that's just right for them."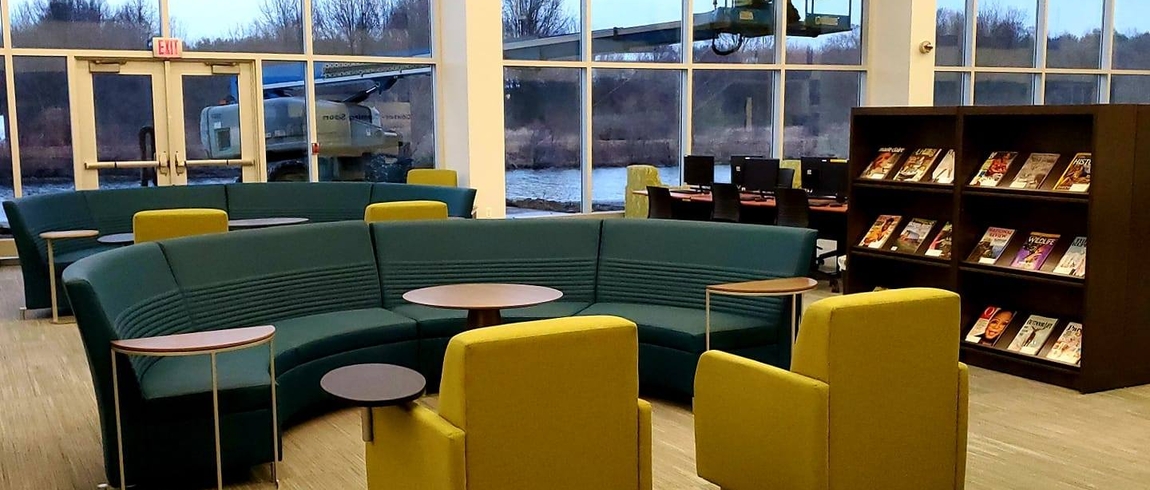 Media Contact