LMC Nature Trail comes back to life
September 3, 2020
Nature doesn't stop. Birds migrate. Flowers bloom. Trees fall. Those signs were evident when Lake Michigan College Biology Professor Jessica Beachy walked through the College's Nature Trail last year.  
"There were sections that had gotten so overgrown," she said. "Over the past few years, we have had some major storms that took down some trees. There was an insect infestation that took down some ash trees as well. Once big trees start coming down, that's more maintenance than I can do with just a few students to help clean it up." 
So, when Beachy was approached by now-retired Vice President of Administrative Services Anne Erdman, who expressed an interest in restoring LMC's Nature Trail, she jumped at the opportunity to do just that. A team that included Beachy, Michael Westrick, Pam McVay, Andrea Zick, and Jen O'Flynn started a plan to bring LMC's Nature Trail back to life. 
Eight months later, at the end of May, LMC officially reopened its Nature Trail, a 1.8-mile path carved through 70 acres along the water and the woods behind the Benton Harbor campus. 
Originally laid out 40 years ago by Professor Emeritus Robert Schodorf, the restored Nature Trail is open to the public and LMC staff, faculty and students. The trail is open from sunrise to sunset and weaves through several different natural habitats. 
"There are pine trees, there's some wetlands, an upland forest with some beautiful, big trees, and a meadow area as well," Beachy said. "Bob created the original trail, which was fairly extensive, and used it quite a bit in his classes. When I came to LMC seven years ago, it was getting harder to maintain. Once Anne expressed an interest and we were able to secure some money, in January, we brought in Northern Tree Care to take out the major, large fallen trees, and that got everything started." 
One section of the trail was so overgrown with pine trees that it had to be recut. Once the larger obstacles were removed, LMC's Facilities team began more detailed restoration work in April. 
"The boardwalks were in disrepair, so we brought in new 2-by-8-foot planks, and installed hardwood mulch and put up new signs all along the trail," said Westrick, LMC's Facilities Operations Manager. "We spent about 500 man-hours grooming the trails, repairing boardwalks, and putting up signage." 
The trailhead by the Athletics Field parking lot was defined with new signage and additional access was added at the back of Mendel Center Parking Lot A. Sections of boardwalk with railings were built and rebuilt in the trail's wetland area, which typically features a seasonal pond in the spring. Wood from the barn that once stood where the Welch Center for Wine and Viticulture now resides was used to create signage and a bench dedicated to Schodorf and his original vision. 
"A large portion of my time as a faculty member was devoted to building, repairing, and leading tours through that area for our students, staff, community," Schodorf said. "I loved every minute of it. Hopefully, our students, staff, and community will again make use of this beautiful resource." 
Some community organizations already have. Once Chikaming Open Lands, the local land conservancy in southwest Berrien County, heard about the restoration, they decided to include LMC's Nature Trail in its annual 10 Trail Challenge that spotlights 10 hikes in 10 parks during July. 
"What we want to do is bring some exposure to all these great natural areas we have. in Berrien County," Chikaming Open Lands Development and Marketing Manager Jennifer Thompson said. "When we learned LMC was working on its nature trail, the timing was just perfect. It's a beautiful trail. It's a little oasis, and people need to know about it." 
While nearly 230 people participated in the 10 Trail Challenge, LMC's Nature Trail largely remains a hidden gem still waiting to be discovered. Beachy, who teaches environmental biology and plant biology, said she would use the trail in her classes, but hopes more people will take advantage of it. 
"It's like an outdoor laboratory for me, but I would love for other faculty members in other areas to use it as well," Beachy said. "But I am excited that our students, staff, and faculty have an area where they can get up from behind their desks and take a walk. I am a big advocate of the idea that nature is a healing place. This is a place you can go right now in a time where you can't get out to a lot of places. It's a new habitat, a new place to explore. It's a short trail that's not very strenuous, so you can take kids there and have 30-to-45 minutes to experience the woods, which is awesome."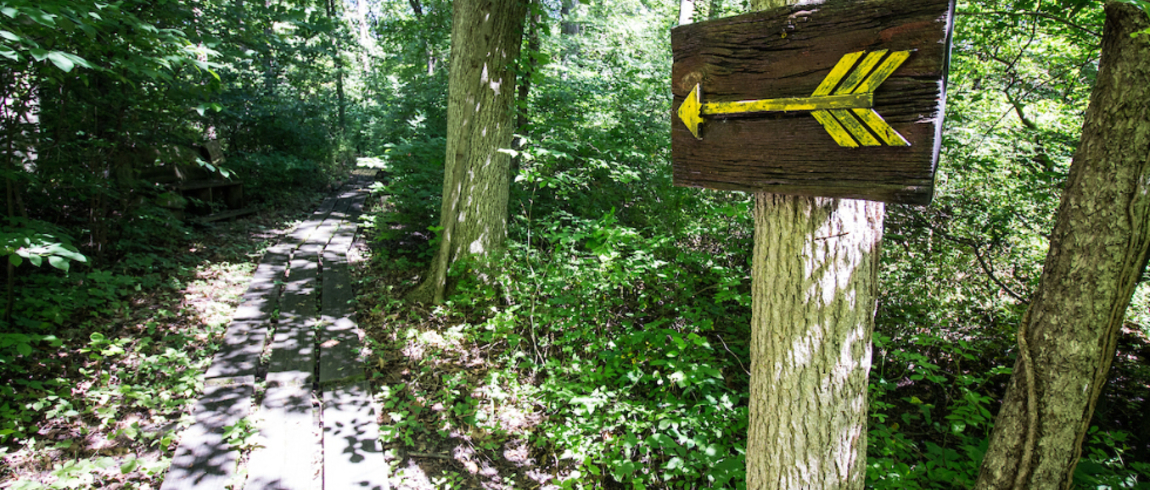 A sign post points the way on LMC's Nature Trail.
Media Contact