Lake Michigan College's free tuition program aids new, returning students
October 4, 2021
Nathan Quao heard about Lake Michigan College's free tuition program sooner than most of his peers. That's because the Berrien Springs High School graduate is a work-study student in LMC's Financial Aid office. 
"When they started talking about it in the office, I got excited," said Quao, who plans to graduate from LMC in Spring 2022. 
"Instead of taking out a loan or spending money on tuition this year, I can now save that money for when I transfer to a four-year college." 
Quao is among more than 2,000 students who have applied for free tuition under a new LMC program, which covers full tuition and course fees up to 30 credit hours during the Fall 2021 and Spring 2022 semesters. 
The opportunity, made possible by a combination of state and federal funds and scholarships through the LMC Foundation, is open to new and returning students seeking a degree, a certificate, or a short-term training program. Applicants must have a high school diploma or equivalent. 
"We started talking about how we can help our students get back to campus and some normalcy," LMC Vice President of Student Affairs Nygil Likely said. "We knew many students lost jobs during the pandemic or had situations that made it too difficult to attend classes. We looked at the resources we had available to us through the Foundation and scholarships and also state and federal dollars allocated due to the pandemic and decided this was something we could offer at this time." 
Both new and returning students must submit a FAFSA and complete the free tuition application to enroll in the program. New students must also complete the general admissions application. Students age 25 and older must complete an application for Michigan Reconnect, a state program that offers free community college tuition for students in that age group. 
"We have certainly seen an increase in the number of general applications coming through," Interim Director of Admissions & Recruitment Sara Skinner said. "The number of inquiries about this program and students contacting us from all around the country also has increased. We certainly see the buzz." 
Likely said the state's Frontliners and Reconnect programs sparked the idea for free tuition. Those resources, as well as funding from private LMC scholarships and federal monies, made the free tuition program possible. 
While programs such as Frontliners and Reconnect require students to be Michigan residents, other funding sources do not. That is why Likely encourages all students, both in-district and out, to fill out the free tuition application. 
"There are some specific requirements, but we want to encourage everybody looking at this opportunity to apply," he said. "There are many avenues we can work with to help students during this time."
Quao, enrolled in chemistry and biology classes this Fall, has been spreading the word about the program to anyone who will listen.
"Education is everything," he said. "Most of the folks I talk to know this is a good opportunity for them, and they've been signing up because if it wasn't for free tuition, they might not be attending college at this point."
Students not enrolled at LMC this Fall can still apply for free tuition for the Spring semester.
"We want to meet the needs of our students within our community," Likely said. "This college is truly committed to this community and committed to the success of all of its residents. This is just another way we're demonstrating that commitment."
For more information, visit lakemichigancollege.edu/free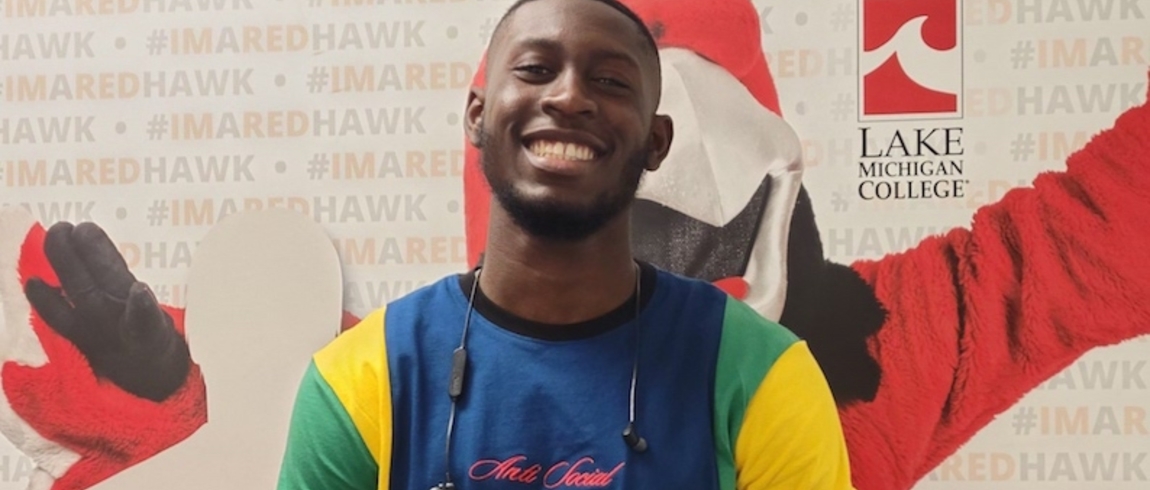 LMC student Nathan Quao is one of more than 2,000 current and new students who have applied for the free tuition program for the Fall semester. The new program covers full tuition and course fees up to 30 credit hours during the Fall 2021 and Spring 2022 semesters.
Media Contact