LMC Alumni Association seeks nominations for 2022 awards
May 26, 2022
The Lake Michigan College Alumni Association Board of Directors seeks nominations for its 2022 Alumni Awards. 
Nominations must be received by June 8 for best consideration. Recipients will be announced in September. 
LMC first presented Alumni Awards in 1986. Since then, more than 80 individuals have been honored.  
"We know our alumni make a difference every day, and we want to share their stories," said Barbara Craig, the LMC Foundation's executive director of Community Impact and Resource Development. "The Lake Michigan College alumni award program allows us to do just that by recognizing alumni who have distinguished themselves in their career, service to their community, and Lake Michigan College."  
Alumni must have graduated from LMC or its predecessor, Benton Harbor Community College, or taken at least 30 semester hours to be eligible. 
To nominate an individual for the 2022 LMC Alumni Awards, please complete and submit the Alumni Award Program Nomination Form at lakemichigancollege.edu/alumni-awards.  
There are three award categories. 
The Clarence Beckwith Distinguished Alumni Award, named in honor of the first President of Lake Michigan College, is given to an LMC alumnus who has accomplished significant success in their personal or professional endeavors.  
Kathy Effa, who has spent 36 years as a nurse, including the past 16 managing the emergency department at Spectrum Health Lakeland Medical Center, was the 2021 recipient of this award. Previous winners include Mary Klemm, Wilce Cooke, and Gloria Ender. 
The Alumni Achievement Award is presented to a recent alumnus who attended LMC within the past 15 years and has demonstrated significant achievement and distinguished themselves in their career, education, or community. 
Megan Hendrix, Honor Credit Union's Chief Operations Officer, was the 2021 recipient of the Alumni Achievement Award. Previous winners include Rodrigo Abarca, Dr. Praise Matemavi, and Lynne Christiano. 
The Alumni Service Award is given to an alumnus who has offered significant personal or professional contributions to LMC or the community. The community is broadly interpreted as local, the state of Michigan, or the nation. 
Candi Gabrielse and Dorothy Moon each were 2021 recipients of this award. 
Gabrielse is the Deputy Health Officer at Berrien County Health Department. During the height of the COVID-19 pandemic, she served as the Clinical and Community Health Nurse Manager overseeing everything from testing to contact tracing to immunization clinics throughout the COVID-19 pandemic.  
Moon, a nurse for 45 years, was named Spectrum Health Lakeland's first medical-surgical resource nurse in 1999, which she held until retiring in 2012.  
Previous Alumni Service Award winners include Larry Wozniak, Craig Stillwell, and Joseph DeFrance, Jr. 
A complete list of previous alumni award winners can be found at lakemichigancollege.edu/alumni-awards. 
For more information on LMC's alumni awards, email Barbara Craig at craig@lakemichigancollege.edu or call 269-927-8147.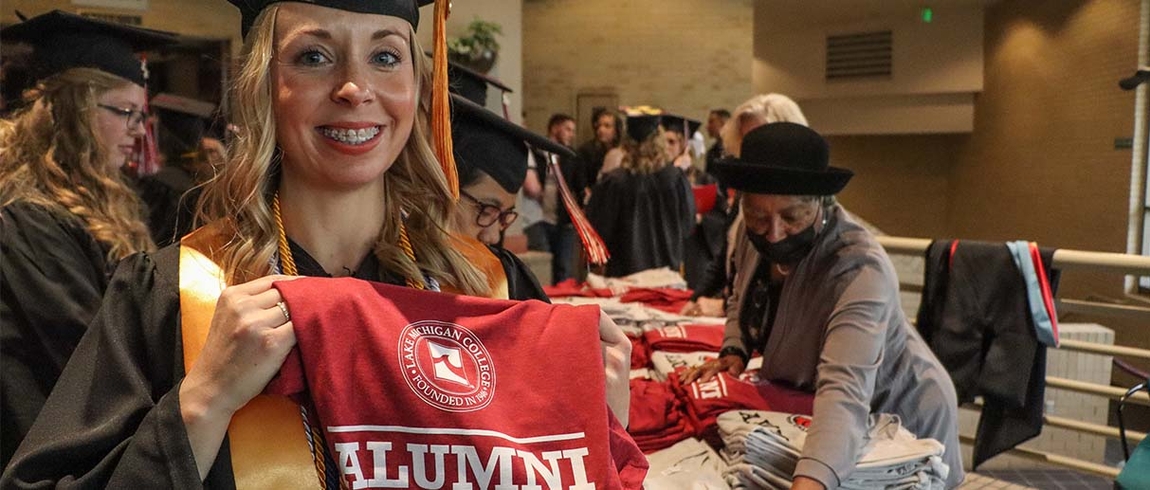 Media Contact
Marketing & Communications Specialist